Its good luck for every Muslim that this month comes in their life. For this year, info date of Ramadan 2023 moon sighted for decision of first roza in Pakistan is start speculating everywhere. The Islamic calendar consists of its own months like in the English calendar. One very important is the Ramadan and it is the month of purity in which evil is suppressed and virtue flourishes. Ramazan calendar shows that when the moon for 2023 Ramadan sighted and confirm the date of first Roza that is different in Pakistan and Saudi Arabia. This will decide as per the Islamic calendar of every country.
Ramadan 2023 First Roza in Pakistan:
Major chance in 2023 is that Ramadan moon sighted on the night of 22 March while first fast or Roza will fasten on 23 March in Pakistan. This will delay or come a day before these dates.
A coming Sehri and Iftari schedule will assure soon according to Pakistan standard. This time for first Roza will vary according to fiqas that establish in Pakistan. Further detail about first Roza in Pakistan and Saudi Arabia with moon sighted that shows the start of Ramadan is given below.
Ramadan Moon Sighted First Roza in Saudi Arabia 2023:
While in Saudi Arabia these whole things occur before a day. In Saudi Arabia moon sighted on the night of 21 March while first Roza will fasten on 22 March. So the day comes close to starting of Ramadan in both countries and its preparation is also going to its peak.  Specials arrangements will do for Sehri and Iftari especially during first Roza this craze is going to its peak.
As we repeatedly mentioned the moon sighted for first Roza of Ramadan in Pakistan is 22 March and the first expected Roza is on 23 March. So, make sure to note down these dates.
| | |
| --- | --- |
| First Roza in Pakistan 2023 | Ramadan 2023 First Roza in Saudi Arabia |
| 23 March (Expected) | 22 March (Expected) |
"Last Year Schedule"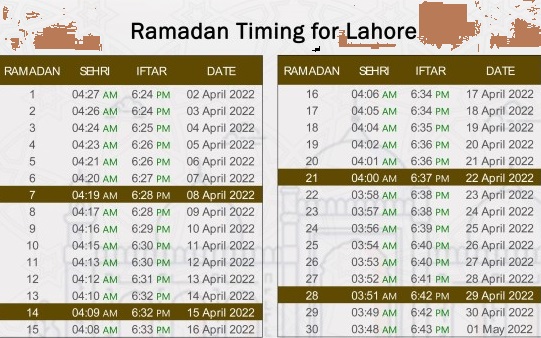 In Pakistan, a team will work with the name of the Halal Committee that is responsible for the approval of moon sighted for first Roza in Pakistan. Although from a couple of years few conflicts arise on their announcement especially in KPK. Overall officials of RHC are responsible for the announcement of moon Sighted. If one sees the importance of Ramadan in Islam then this is Holly month for all Muslim mankind. This month is considered as the month of forgiveness, in this month shaitan is caught so he will not able to motivate Muslims towards the wrong way.
For this Ramadan, Ashras dua is also too much important. In short, every Muslim wants to cash this month in a better way and offer prayers with Nawafal and travih regularly. Here we update you with Ramadan 2023 moon sighted that will confirm first Roza in Pakistan and Saudi Arabia that shows that this month will start. In this month Muslims are taught to Fast from the dawn to sunset.  Fasting has some conditions and methods according to Shariah and Sunnah. Fasting means abstinence from food and drinks from dawn until sunset.