We know that navigation systems have been very convenient mode of addition to any car, but if they will be set to the wrong language then they are useless. Cars which are made in Japan, they have been set to Japanese instead of English language. If you want to change this Japanese car navigation language then there is this requirement to purchase of extra software, you might also need extra professional servicing. If you want to know how to change Japanese car navigation language and if you want to know about the simple steps that how you can change it into English then we can let you know about those steps:
Look For The Button That Says English
You have to turn off your car and then turn it on by looking for a button that says "English." It is seen that some cars have this option that can let you to change language right at the moment when the car is turned on.
Look For The Button That Says LANG
Then you can look for a button just around the touch screen that has been marked by "Language" or "LANG." Then you can press this button, press the button for "English" right on the touch screen.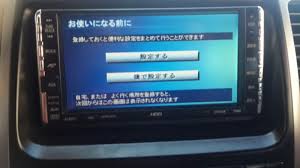 Which Navigation System You Have?
Now, you can check to see that if your navigation system is a GPS system or if it is the DVD system. If your system is a DVD system, then you have to call the company and you have to purchase an English language disc. It can cost you upwards of $150. Now you can take your car into that dealership store if your car has the GPS system, they will reprogram this system for free, or they can also charge you. These can be the two options that can let you know how to change Japanese car navigation language!
It is not only for the Japanese language that you have to follow this method of converting this language into English, you can follow this method for any of the languages. Now, if at any time you buy a car and you see that it has this Japanese navigation system then you can try out this method. Follow these steps, just opt for the GPS system or for the DVD system and then you are good to go to have the navigation system in your own language.