It is an actuality that outfits on marriage ceremony or you can say Shadi dresses have become quite famous. These Pakistani wedding dresses truly show that what the meaning of local culture is. If you want to exhibit and show the real cultures of East then it is only these special occasion clothes that can do this task! Right here in 2018, you can have a look at different kinds of variations of these Shadi dresses for Pakistani girls, some pictures are also added here with the different type of color scheme and embroidery work. The prices also depend on the type of embellishment. Lehengas and Mid Length Shirts: For this, you can have an option of wearing mid length shirts with some fancy looking lehngas. You can have this dressing for both of the wedding and reception days.
Go for dark shades for the wedding day, the best color is to be of red, golden and purple shade. If it is the reception day then suitable color has to be of silver, light grey in shade. This shows that one can try it in multiple ways.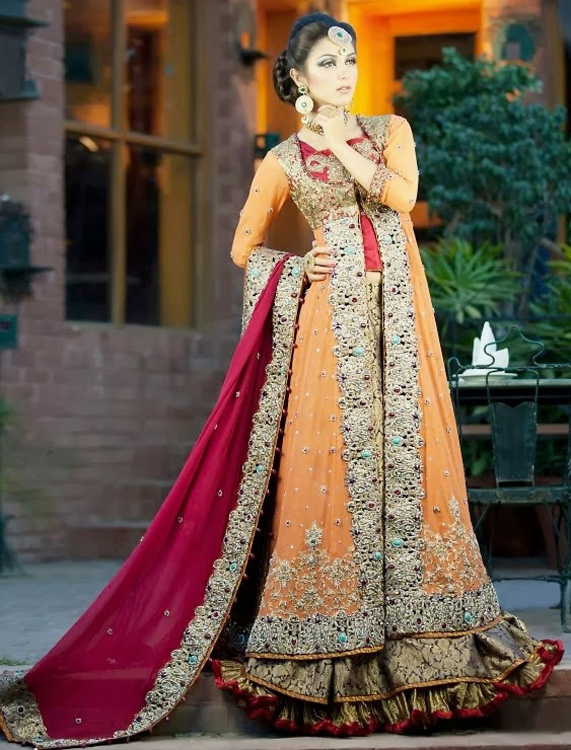 Cholis:
These days, girls like to opt for some different style when it comes to their wedding dresses. Now girls like to have fancy cholis on their wedding days instead of opting for long or mid-length shirts. These should be designed in a fancy way. They have to be heavily embellished.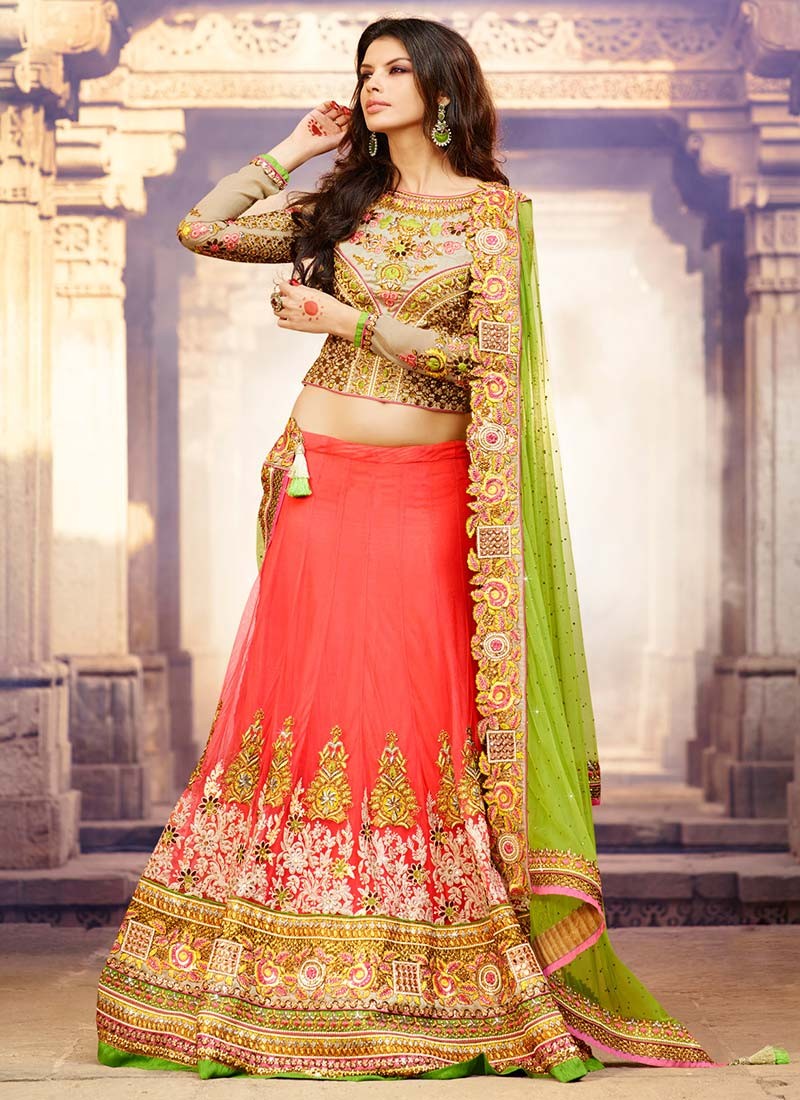 Ghararas and Shararas:
If you do not like wearing up lehngas then you can have an option to wear this one. No doubt this will make one more different..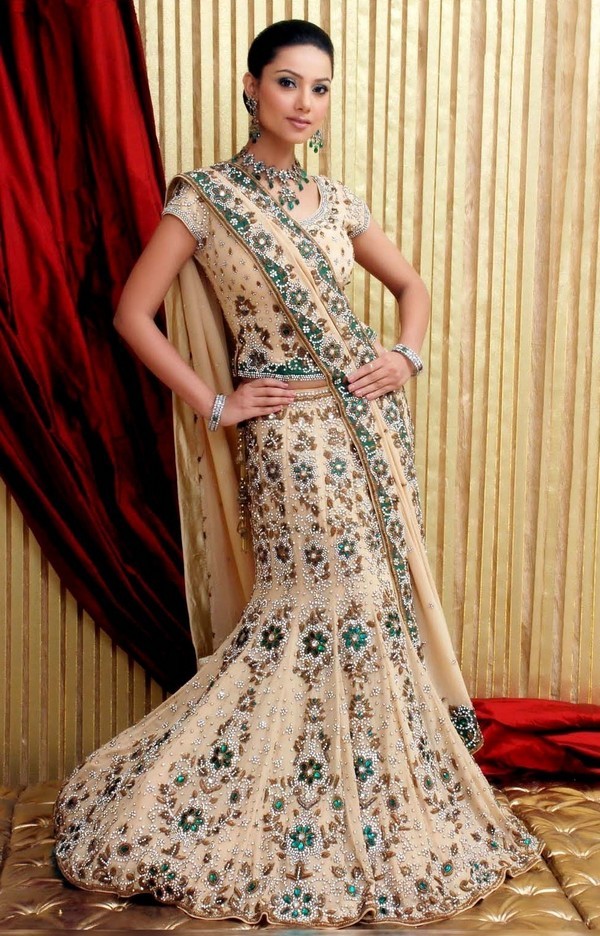 These are the 1960s styling and if you want to look like that time of bride then you can have this kind of wedding styling. These should be stitched accurately and you have to carry them up in an elegant way.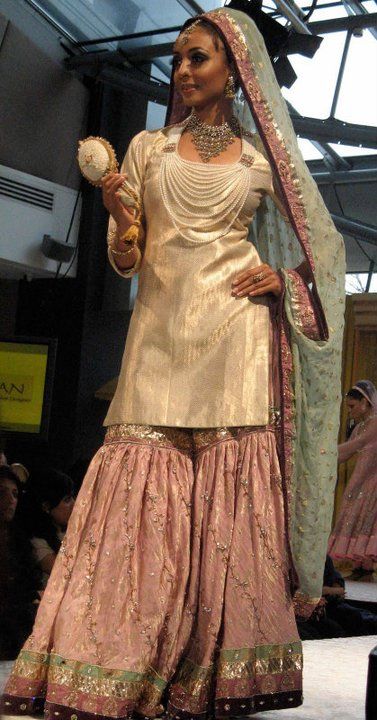 Anarkali Frocks and Churidaar Pajamas:
Some girls like to give that Mughlia touch to their selves. So they pick up this option of wearing these frocks along with these special type of tight salwar. Your frock has to be fancy and embellished one with Dabka and stones work.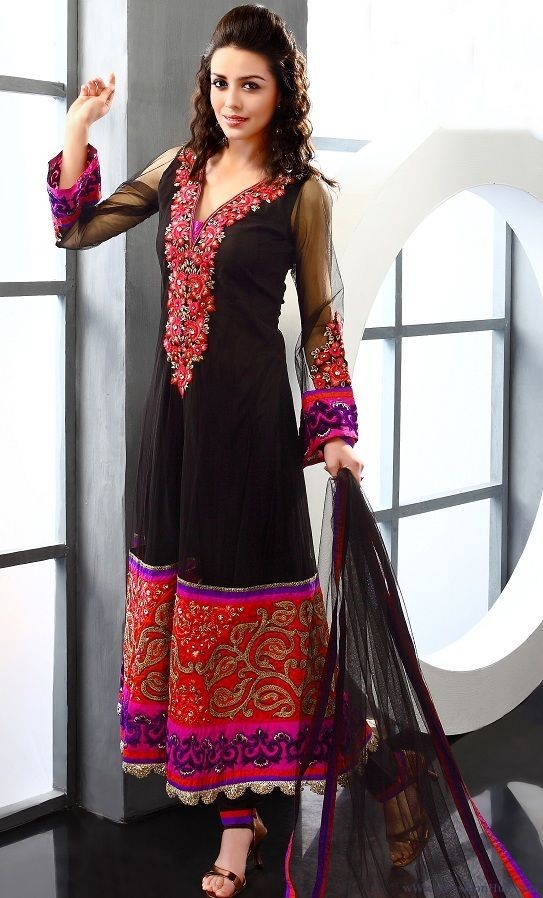 Andrakha Shirts with Cigarette Pants:
Most of the Pakistani brides also love to wear Andrakaha style shirts and fuse them up with the cigarette pants. These are the lighter kind of dressing style. You can have the look of being the most elegant bride if fancy shirts will be worn by you.
Price: Embroidered work is considered as most important for all type of Shadi Dresses as clear in above pictures, so the prices vary according to embroidery on a dress. So it's not possible to predict exact one. During 2018 many new designs have come in the market under many brands and designers so now girls has more option to wear a perfect outfit.