For all campuses of Advertisement come for AIOU Spring admission 2015 are started for which officials of Allama Iqbal Open University requires application form before last date. These forms are requiring for admission of matric Intermediate graduation and number of master programs with phd in couple of major subjects. This time number of short courses is also include in this opening admissions. According to add this time students are selected on merit base as well as a quota is always available for fixed number of students. So through this there are two ways to apply, so choose right choice for which one thinks that suits in selection. While over sees are also has option for apply, for them special seats are announce through which they easily selected in any selected course. So all candidates that are waiting for the opening of admission must complete their requirement before given date. This is one best option to make a bright future through getting admission in one top Institute of Pakistan so never miss this opportunity if you are eligible.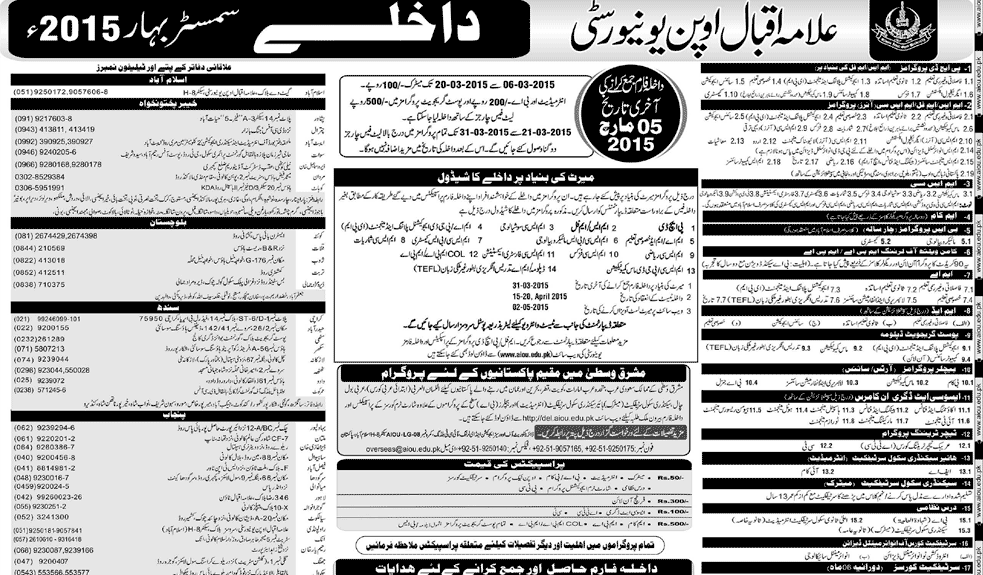 Campuses of AIOU where admission are open:
Islamabad
KPK Khyber Pakhtunkhwa
Balochistan
Sindh
Punjab
AJK
Gilgit Baltistan
These admissions are open in all campuses that lie in all Provinces of Pakistan for given Programs.
Matric
Intermediate FA FSC
BA/BCOM/BED
Certificate Courses
Short Education Programs
PTC
Assocciate Degree
ATTC
CT
Mcom
MBA/MED/MA
All Post graduate Program
Master Programs
Last Date to Apply: 5 March 2015
Procedure to Apply:
Collect Application form from any center of Allama Iqbal Open University.
Then along with fee submit application form in any branch of Habib, Allied National Bank Al Falah.
All detail is also mention in prospectus that are also available at all centers of AIOU. After submission of application selection of candidates will start that is also divides in two step. In first step eligible candidates are called for entry test and then only short listed candidates are called for final interview. Further see Advertisement and complete application procedure before last date for selection in Allama Iqbal Open University Spring Admission 2015.