It is to be noted that the under the supervision of Punjab Government a new system has now been inaugurate for the registration of vehicle through dealer, this is termed as DVRS. Its online procedure is very simple, through this official will be able to get rid of corruption; it will be able to stop the usage of vehicles that comes with the fake number plates. The entire traveling mediums which are used for these acts of terrorism, this system will identify those automobiles. The data of all car or motorcycle will be saved a secured because now it will be made computerized with the assistance of this new system. It's another significance is that now authorities will remove the practice of late registration. Without any confusion this will provide best result if it will utilize in right way.
 According to this process, a specific card will be provided to only those dealers who full fill the necessary condition. Even they are having the right to checking the all documents of applicant. As stated earlier that all showroom are not allowed to do it.
With the arrival of this DVRS system, we will see a strengthening in this registration system. Its service cost is also reasonable, for Cars Two Thousand ( 2000)  rupees and for motorcycle Five Hundred( 500) will charge. These fees are fixed by the government.
Advertisement that cover all Benefits: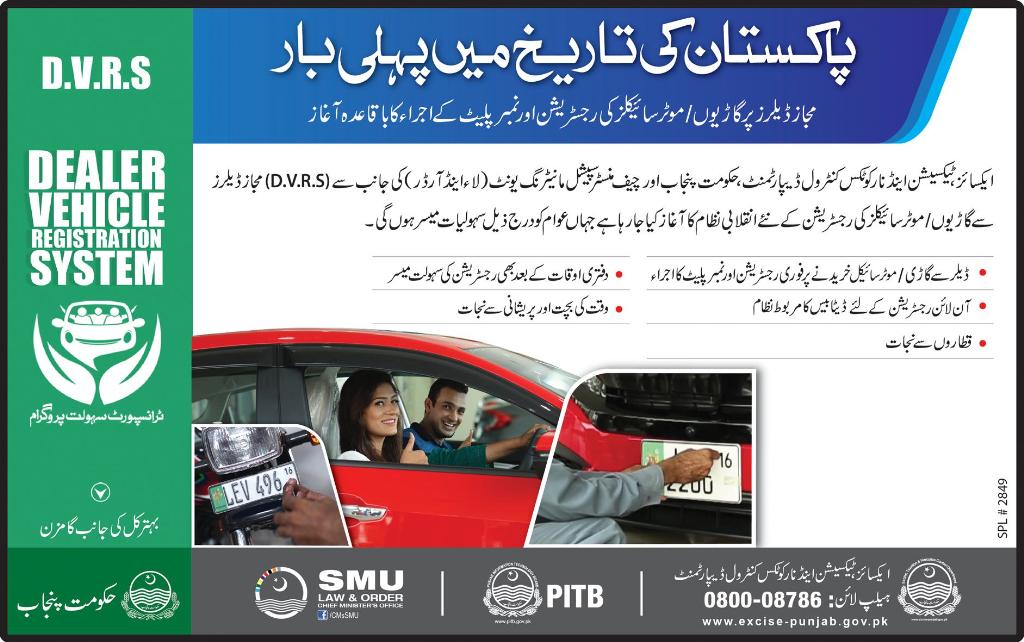 Note that this system will also issue a universal number plate, with a specific number that will come in the form of computerized card.
We hope that through this, we might be able to see a corruption free and to a safe procedure of these sale and purchase. If any of the citizens face any kind of issue related to registration, now he will get benefit from it. In past this is not an easy task, one will need to stand in long rows. The old process made your day hectic one, now these all worried are going away. This is now a complete package that contain solution of too many problems. Further upcoming days will decide about its success.