Now day come in month of May 2015 when Professor and Associate Professor jobs come under platform of PPSC so apply online before last date come of submitting application. This time again one has only option to apply through online, other than online application submitted through hand is not acceptable. This step is really useful for all applicants as well for management that are looking to these application forms after its submission. The applicants that complete form by taking care of documents and full fill whole requirement never need to hesitate that their form are not submitted. But here important thing is that its need more attention during fill of this form. So be careful when one is going to apply online. Moving towards some job detail then important thing attach with these jobs is that it gives equal opportunity for both male and female. Secondly multiple of these vacant are divides subject wise through which multiple master degree candidates get chance to apply. Thirdly and most important thing that is attach with these jobs is that these jobs are not limited to some districts. A domicile holder form any district of Punjab is eligible to apply for these jobs.
This thing that domicile holder from all districts of Punjab are apply for these jobs makes competition going to its peak. After this open option strength of applying candidates must going high then normal recruitment that finalize on district level.
Advertisement: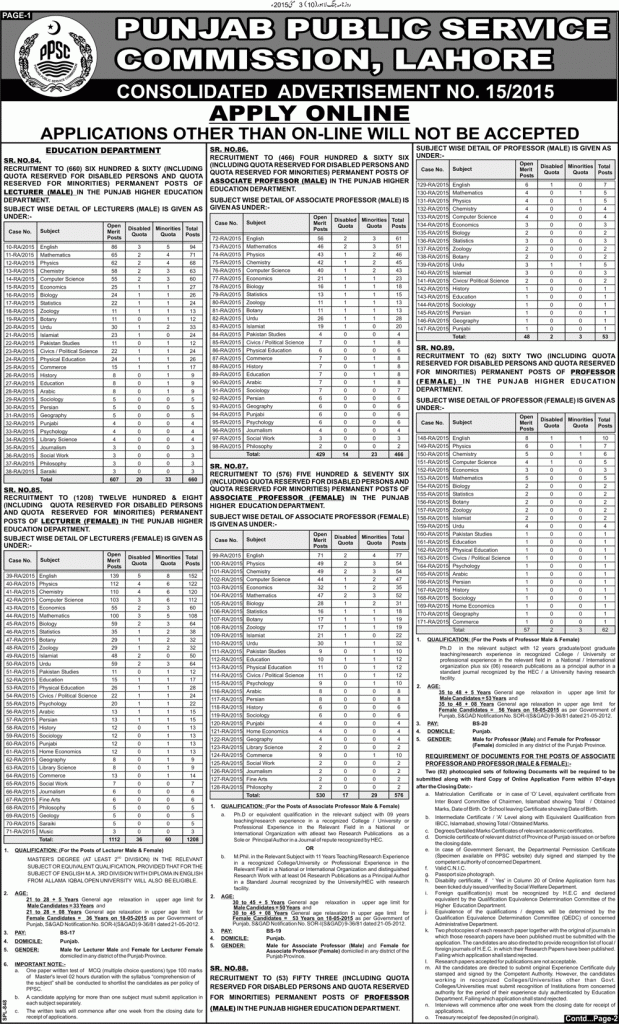 Eligibility:
Qualification required for Professor is PHD from any university that is recognized from HEC along with experience of 15 years of teaching.
Both male and female are eligible to apply for these jobs. Whole this is BPS 20 scale job so pay is also given according to scale 20.
For Associate Professor qualification is going down, all those that complete PHD or MPHIL from any recognized university are apply online who has also teaching experience of 9 Year,
Again in these vacant male and female both are apply.
Required documents must attach with online application form whose more detail is given in application form. So be quick and apply online for PPSC Jobs 2015 May Professor and Associate Professor before last date come.