All those who lives in Lahore knows that Mughal-e-Azam Banquet Marriage Wedding Hall is one of the most famous and great hall which is located in the city of Lahore, Pakistan. The purpose of this hall is to provides a perfect setting for all sort of functions such as Birthday party, wedding functions including Wedding Reception, Ceremonies, Corporate Functions, Conferences, Fund Raising Program, Theme Parties to Anniversaries and many more functions you want to set up there. It is a hall with five conveniently where around 80 to 1000 people can attend the function at same time. Mughal e Azam is very best place for any function because the staff of this will deal you with great behavior and warmly welcome you and this place will make your function memorable and unforgettable. Now u must be thinking about the Mughal e Azam Banquet Hall Lahore Rates and we are here to give you Mughal e Azam Banquet Hall Lahore Menu Rates and all the other contact information are available here for you so that you can easily book it and have a great function at an superb place at all.In all over the Lahore there are so many halls but Mughal e Azam Banquet Hall has a unique and peaceful environment for the guests which will make you feel happy and comfortable while attending the function.
Mughal e Azam Banquet Hall Lahore Menu Rates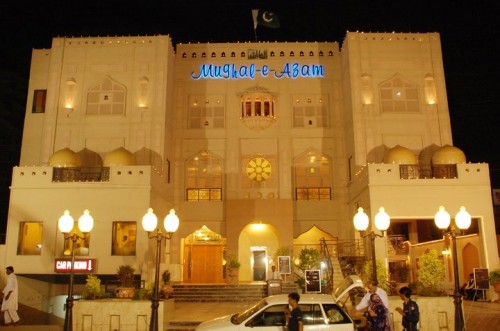 Timing:
Monday to Saturday it is open for 24 hours but for Sunday the timing of it is from 10:00 Am to 10:00 Pm.
Mughal e Azam Banquet Hall Rates:
The rates in this hall of per head basis and Per Head you will have to pay  Rs. 1100-1200.
Music:
The live music will be played continuously in the hall to make the guest entertain and keep them refreshed during all the function.
Address:
Block Abock, New Garden Town, Lahore
Contact Information:
(042) 3584-4052, (042) 3584-4053, (042) 3583-6510
Menu:
Now one dish is allow in menu in which one has option to choose mutton or chicken menu that is integrated as:
(1)
One dish of Chicken Karahi or Qorma
Bayrani
One Sweet dish or deserts
(2)
One Dish of Mutton Qorma or Karahi
Chicken or mutton Bayrani
Option of sweet dish that include number of deserts.
According to atmosphere and serving  with most important Rates Mughal e Azam Banquet Hall Lahore with marvelous taste in menu. So must visit this place and book it before you wedding day.