Police department is playing an important role in the national safety of our country. It keeps our country safe from crimes and keeps our lives safe. Furthermore, this department has authority to control law and order situation of our country. So continuation of male and female is equaled important in this department. In 2016 new recruitment are open under which constable jobs are announced. All the provinces of Pakistan has its own forces which has its own authorities but the purpose of all these is to protect the country against the evil forces and from unpleasant situation. For all of this it's also necessary that all recruitment has finalized on pure merit. Because only right selected candidates perform duties strictly according to roles and regulation.
"Till Any Advertisement is not come for Constable Jobs"
To become a part in Punjab Police applicant has to pass through several steps that comprise various tests such as
and at the end final interview.
Post for Police Constable:
For the Punjab police constable post, the applicant must be between 17-25 age, should be well heighted.
The applicant should have done at least matriculation so that he is able to qualify the written test which contain MCQ's and Essay. Physical test is also taken for this post too.

These all are basic things for apply in Punjab police recruitment during 2016. The difference b/t male and female is only in height or may be age limit also differ little bit. Although a time ago ladies are afraid to join in this department but now they equally contribute in this field. This is good sign for this community because their contribution is too much important now.
"For Male Last Add"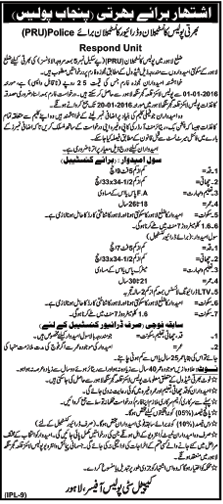 Any citizen of Pakistan can become a part of this honorable department but make sure the applicant must be physically fit and meet all the necessary requirements.
Hope so these new selected candidates must do their best in field. They are young and energetic as well they are only selected after following a proper eligibility criteria. Their contribution must stable the role and order circumstance because this country face number of security issues.