It's sure that front gate of your home carries a lot of importance and significance. This should look an appealing one, it should look classy enough. If this will look boring and dull enough then how visitors can will capture the attention of your house. You should be extreme creative while designing it. Try to create this one in the most special and creative way. Few pictures in below cover the wide in range of front gate designs for your house. In Pakistan, the styling is little bit different as well material use in its manufacturing is Iron. In our country, we have seen that these entrances are always given a royal and a traditional look. This trend is here in all over sub continent. This is not a new one, from long time it will shift to this generation. A time ago its cost is not too much, but now with increasing rate of iron its price is also going to much high.
Designs Ideas:
You can have the bar shaped for your entrance. Have them in the rusty golden color; you can also have it in (dull or bright) golden in color shade. You can also be given this choice to make it in the spiral look. If it is made from the steel and iron material then you can give it a flowery look as well.
If you have a smaller in size gate then you should keep it simpler. Give it an antique color look; you can put in multi in range colors on it.
If it is bigger in size then you give it a more embellished look. You can further cover it with the steel made flowers, you can place iron made flowers or other shapes on it.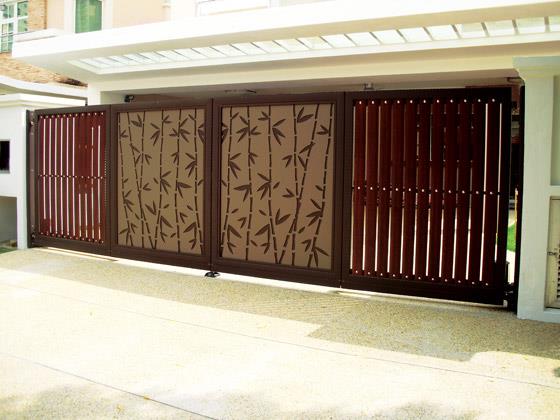 Pics Gallery:
Try to renovate and remodel them in a perfect way. If you have a creative mind then you should use this creativity of yours while styling the entrance gate of your house. Sure they has major contribution in outer look of whole building, as these are unique words that first appearance is consider as last one. But never make it too over, it also depends on the size of home, so also be care full about it. Do all things in matching that suit in best way.