Rates Subscription Procedure to activate Mobilink Jazz 3G Champions Package is given at same place. This package covers call sms and reasonable internet rates for all mobile users that is also easy to subscribe. Mobilink is a one of the best companies in Pakistan. Mobilink always come with amazing and attractive packages. Mobilink Jazz has always prided to itself for understanding of the needs of Pakistani cellular users. Their customers are loyal and they are not ready to leave this network at any cost. Only Mobilink Jazz which provides the best connectivity options and fulfills the customer needs. After the acquiring the 3G license Now Mobilink Jazz is claiming a newly offer announced is known to be "Champions Packages". This offer provides the best and cheapest rates for voice Calls, SMS bundles and Mobile Internet packages to all network. This is default offer is only valid for all Jazz new SIM prepaid customers. This offer has made the lives of its subscribers very much easier and free from all extra and hidden charges.
To Check some SMS Packages Detail Click Here..
To Check some Internet Packages Detail Click Here..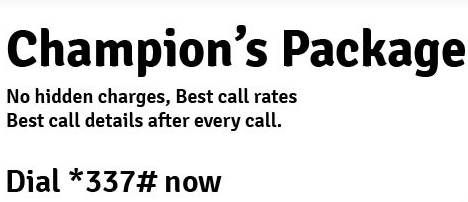 Base Rates Details:
Calls to all local networks: 75 Paisa / 30 second
SMS to all local networks: 75 Paisa / SMS
Mobile Internet rate: Rs 2 / MB
Terms and Conditions:
(1)   All rates apply in Pakistani Rupees.
(2)   All voice, VAS, SMS and data services will be removed within 72 hours of migration.
(3)   In case a customer requests' for subscription of offers that is not allowed on Champions Package he will have to migrates his package to avail them.
(4)   This offers charged call setup fee just Rs. 0.10 + Tax on the first pulse for each call.
(5)   19.5% fed on usage and 15% withholding tax at recharged or bills apply.
(6)   Apply 5% service charges and 5% operational fee on all recharges.
(7)   To check balance inquiry dial *111# in Rs. 0.20 +Tax.
(8)   For any additional information call 111 helpline in Rs. 2+ Tax.
(9)   Using a SIM which is not in your name is a crime (PTA).
During recent days after announcement of 3g services this is one best offer of Jazz that covers every type of usage.
Subscription Procedure:
Anyone exiting Jazz customers who want to switch to Champions Package just dial *337# and enjoying this amazing offer. There is no charges apply to migrate Champions Package. Customer can dial *336# to receive free End of Call Notification Service on Champions Package.