As the oldest name, Jazz always stepped forward to prove himself the best one. In recent times, Jazz sms packages 2023 for daily weekly, and monthly codes have been revised one more time. These new changing has made this Jazz Sms offer 2023 more special. This is for all kinds of occupations; because this is so affordable. If you are in the business line, or you are an employee, even if you are studying then do you know which connection you should be choosing? It should be Jazz always. They have their daily, weekly, and monthly SMS offers and packages.
All of these are available at such low rates. Hopefully, a few users who left this network must revise their decision. Because this is an unmatchable network. Further, just make sure that this is for the prepaid user.
Jazz Sms Packages 2023:
Because of all these amazing Jazz Sms Packages 2023, they surely grabbed the attention of the other network customers. And its history of Mobilink Jazz that they have been all infused and became much popular because of its packages.
It has engaged us so that we can get connected with our friends and mates on the national and international levels.
Note: The validity of these bundles is not decided or fixed. So, they may change at any moment.
As mentioned early that mostly these are divided into three main portions monthly, weekly, and daily. There are some packages of SMS that are comprised of the limit on an hourly basis. Jazz even came up with the introduction of the yearly package but it was later on closed down as it did not grab much of the attention of the customers.
Jazz Daily SMS Package 2023 Code:
For occasional usage, this is the most suitable option, where u don't need to pay for the whole month or week for only usage of one day. While the code of Jazz Daily SMS Package 2023 is comprised of a decent SMS bucket along with the Whatsapp bundle as well. Moreover, the table shows other details:
| | |
| --- | --- |
| SMS | 1200 SMS |
| Activation Code | *101*1*01# |
| Check Remaining Code | *101*#*01# |
Jazz Weekly Sms Package Code 2023:
A most useable bundle that works for everyone. Yes, Jazz Weekly Sms Package has a handsome WhatsApp packet that is also enough for this time period of usage.
| | |
| --- | --- |
| SMS | 1500 |
| Package Price | 26 Rupees |
| Duration | 7 Days |
Jazz Sms Package Monthly Code 2023:
A comprehensive or complete package for a regular user for total of 30 days. About everything is part of the Jazz Monthly Sms package 2023 in enough quantity and its cost is also very economical.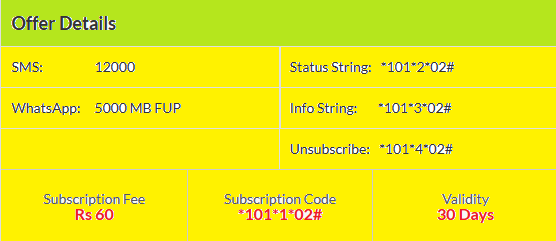 Nevertheless one of the main reasons for the popularity of the Jazz SMS packages is that it is low and affordable in the rates that do assist the customers to avail its activation as much as possible. So if you are a customer of this network then make sure that you grab use of all of these offers.

So if you want to talk to anyone, no matter if they are living within Pakistan or they are abroad, you can avail yourself of these ones by Jazz. The Jazz sms packages 2023 are less in cost for daily weekly or monthly durations and gives you unlimited texting option too through this code. Hopefully one will enjoy the best time with it. Further, just make sure to reactive them after the expiry date.