There are so many latest mobile phones introduced in Pakistan and it's very necessary for this modern age that some innovations are take place with latest technology. On the lunching Samsung Galaxy Note 4 Telenor offer free internet Whatsapp Twitter for those people that having this advanced mobile phone. This offer has been introduced first time in the history of Pakistan after the invention of 3G, 4G technology. This offer has been launched only on Samsung Galaxy Note 4 because people used mostly mobile phone as per need but the usage of internet on their mobile phone is common among the people of Pakistan. Telenor Company is one of the best and top class telecommunication company and so famous among the people of Pakistan due to their largest network in all over Pakistan. This is only company which understood the true need of the people that's used social media or internet daily. Telenor always introduces the advance technology according to the demand of the people and now this time telenor provides free internet wahtsapp, twitter on the launching Samsung Galaxy note 4.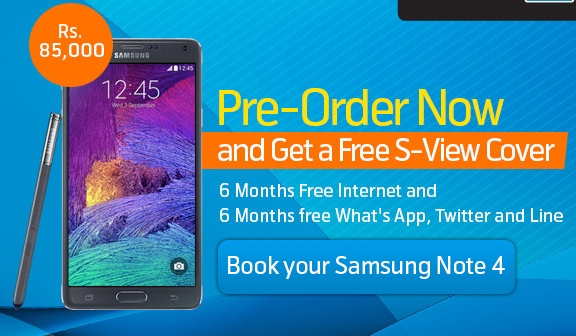 The interested people get register online for purchasing this smart phone and get this phone just pay only Rs. 85,000.
This smart phone is having a lot of features and specification:
Long time battery.
3G and 4G supported.
32 GB Memory, 3 GB Ram, micro SD.
9 GHz Cortex-A57, Quad-core 1.3 GHz Cortex-A53 processor.
16 Mega pixels Camera with flash LED.
High resolution video features.
7 inches display size.
This is one best offer to enjoy some best speed of internet with marvelous smart phone. Secondly NOTE series is especially launch for the internet users that use internet on their phones. Hopefully this collaboration of Telenor and Samsung come with new phones after success of Galaxy Note 4 with free internet bundles.