As one knows that temperament in Pakistani nation is going down; its latest example is Fight between Mian Marghoob PML n MPA and Ibrahim Mughal Analyst Journalist in Show that will telecast on a private TV channel live. This real fight is start when both has different point of view at a specific point and they interrupt each in between talking. Here another interesting story is that this time they are not both politicians. At one side a good Analyst as well as Journalist uses such lanuague that is not anymore expected to that type of educated persons. On the other side PMLN MPA Mian Marghoob Ahmad is also an educated politician and no one expect such type of language from his end. Now moving towards the original story that which person starts this type of wrong language; it's not necessary that it is right opinion. According to our opinion this worst talk is start when Ibrahim Mughal an Analyst and Journalist start interrupt. At start Mian Marghoob says that you talk when your time comes but he gets negative response from other end. Then no doubt this is time for high temperament from the side of Mian Marghoob but then a session abuse is start that will end at fight.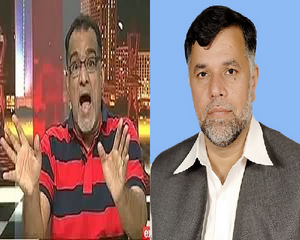 This real fight video is updated here soon that will show more original things and overall it's not good for both of them.
Conclusion:
This show is on air live and when two top personalities from any field are talks each other whole world sees them. They represent Pakistan and in such type of incidence respect of country is directly affected now its necessary that sorry will come from both sides that will minimize this issue.