Throughout the Saudi Arabia and UAE Call Package 2023 offered by the Telenor, Ufone, Jazz, and Warid, the calling rates are going cheaper. Now those peoples who live away from their families can communicate easily back to their homes.  Surely, a massive strength of Pakistanis is living in these countries can communicate at a very low price to their related person in the homeland. Further the call rates of these offers, and how to activate these packages, timing in which this is applicable whole these types of details are combining at the same place.
It's observed in recent times that every network offers its packages for both of these countries, especially for Saudi Arabia.
As the telecom industry of Pakistan is growing rapidly, it also introduces the software-based network having communication mediums that emphasize direct communication services. After this now voice quality is going clearer. Because of a period of time ago when one set call abroad then voice issue comes but now all things are going fine.
Telenor Saudi Arabia Call Package 2023:
The detail of Telenor Saudi Arabia call package 2023 shows that these bundles are just impressive. While, one has now two option and choose anyone from them.
Call Rates: 4.9 Rupees for call duration of 20 Sec and after every call 10 Telenor minutes are also added in your account.
How to Activate this Offer? the code is *345*6# that is easy and simple.
2: There are two more Telenor Saudi Arabia Call Packages 2023 and according to them, the 3.9 per is charged for 20 Sec, and to get this offer, only dial 111 before the number.
3: While, the 3rd one is for only the prepaid and according to its detail, simple recharges the balance of 500 Rupees and after this dial *759#. Then u will able to call 30 minutes in Saudi Arabia adding with the 1000 MBs and 30 SMS too. (Maybe, this is expire now)
Telenor UAE Call Package 2023:
The very attractive, Telenor UAE call package 2023 has offered bit higher rates than the KSA. Maybe, they also tried to reduce it too.
Call Rates: About 6.8 Rupees charged for the every 20 Sec.
How to Subscribe? By default, this offer is active on every Telenor number. But, still add "111" with the number.
Ufone Saudi Arabia Call Package 2023:
The charges of the Ufone Saudi Arabia call package 2023 is the same as the Ufone UAE call package, whose activation and charges detail is there too.
Ufone UAE Call Package 2023:
The discount offer that covers Ufone UAE Call Package 2023 also get ready. And for this, the 3 rupees+ Tax will need for call of time 20 Second. The activation charges for this are also 3 rupees while code is *226# that is also the same as above.(Probably, this is no longer active as they offer a new net package for UAE and Saudi Arabia too)
Jazz Saudi Arabia Call Package 2023:
Recently, Jazz Saudi Arabia call package 2023 is revised, after which the calling rates have changed. An for user its a good news that they are lower then last ones.
Call Charges: 2.38 Rupees for call duration of 15 Sec
How to Activate? Just dial *452# from your phone.
Once again JAZZ is trying to beat all of his competitors with these kinds of best rates to their users. So just review them in detail.
Jazz UAE Call Package 2023:
The starts of Jazz UAE call package 2023 reflect that the call rate of this country is higher than the Saudi call rate. This a different country, so things are changed it it.
Call Rate: 3.57 Rupees for call duration of 15 Sec
How to Subscribe? Dial *452#. Yes, this is also a suitable one.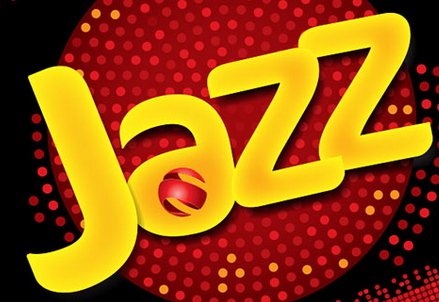 Terms and Condition for Jazz Customers: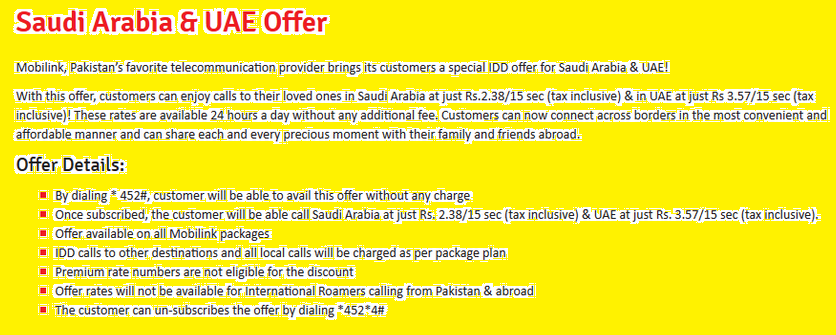 Warid Saudi Arabia Call Package 2023:
After the merging up of these two networks, Warid Saudi Arabia call package 2023 is the same as the Jazz package charges.
Now you not to worry to call in these countries because of just dial number and enjoy these cheap rates. Gradually the technology has changed. In the same ways, this industry is expanding then it was in the past. In the past, several service providers include the Internet and telephone generally charged high rates. As more companies launch their networks with the latest technology force all networks to reduce call charges.
So now people communicate and connect easily with their loved ones and one good thing is that there is hardly any place where connectivity is not available. One can say that currently, people living abroad are very close to you. Hopefully, in the future, the Saudi Arabia call package and also the Ufone, Warid, Jazz, and Telenor UAE call package 2023 are going better and better. Because a lot of Pakistani people are living these two countries and they always want to connect with their native ones.