Now after involve many other things now Jazz, Warid, Ufone, Telenor as well as Zong also considered the Customers at International Level. These kinds of Customers pay a lot with less time utilization so for. It is best thing which involve the amalgamation of both National as well as International Level of services. The Customers of such Cellular Mobile Phone Companies wants to get advantage of low price or same price for as they pay for National Level Calling. Actually now Customer also pondering upon such services which provides extra benefit for them.
Ufone provides International Roaming for all Customers Prepaid SIMs for Free. Actually mostly Customers of such Cellular Mobile Phones companies don't want to change their numbers for their Vacations days as well as for other Business meetings so that they want to get cheapest rates for their International Roaming. Mostly People visits for UAE,USA,UK,KSA and Qatar and now Ufone presents some extra ordinary cheap rates for these countries. Mostly International Call Rates of Telenor Jazz Ufone Zong Warid consider 30 Countries and they want that customer should get maximum benefit from such offers launched almost for all countries.Jazz is only one who offered this about for 140 countries.
International Call Rates of Telenor Jazz Ufone Zong Warid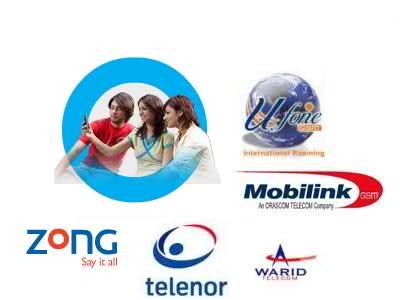 Jazz
This offer includes:
    No security deposit
    No subscription charges
    Free incoming SMS
    Convenience with One Number, One SIM Card
    Balance Check through *111#
    Multiple Recharge options
Although not mandatory, Jazz International Roamers are advised to carry sufficient balance in order to enjoy unmatched convenience. Recommended balance is Rs. 1,500
Download International Roaming Tariff Guide in Acrobat Reader Format.
International Roaming Tariff Guide
Subscribing to Jazz International Roaming:
    Jazz International Roaming can be activated by simply calling 111 Helpline.
    Jazz customers can also subscribe to International Roaming by visiting their nearest Mobilink Customer Care Centre or Franchise
Balance Recharge for Jazz International Roamers
Jazz Load, Jazz Share, Balance Inquiry (*111#) and Balance Charging through USSD (*123*14DigitCode# and press SEND) all work while on roaming.
Telenor:
Click Here to Download: International Roaming Postpaid Tariff
    To subscribe to International Roaming, please dial 345 from your Telenor subscription or visit any Telenor Sales and Service Center near you.
    If you are calling from a landline number, please dial 042 111 345 100 and 051 111 345 100 if you are calling from outside Islamabad and Lahore.
    If you are calling from Islamabad , Rawalpindi and Lahore dial 111 345 100.
    Dial +92 42 111-345-100 or +92 51 111 345 100 if you are calling from another country.
Note:
Please note that you can make and receive calls and send SMS while you are visiting any of the countries who are on Telenor's network partner list.
    Your IR bill will be generated in Pakistani Rupees with your monthly Postpaid bill.
    All prices offered are based on information provided by the network partner.
    Prices are subject to change without notice
    Prices are indicative and are subject to foreign exchange fluctuation.
    The security deposit for Postpaid customers is Rs. 15,000.
    Inclusive of 19.5% GST
Ufone:
Postpay Roaming Tariff
Prepay Roaming Tariff
Note:
•     All tariffs are subject to change as per the change in the Roaming Operator's IOT
•     Rates given here are for calls made within the roaming country.
•     International Calls will be charged according to international call charges in the roaming network country.
•     Incoming calls will vary according to PTCL's IDD call charges from Pakistan to roaming country.
•     19.5% CED not included in the idd rates.
•     For the USA and Canada rates will vary according to the state or province the user originates the call or service. (For the USA worst case scenario is a total tax of 25% levied on total charge of the Call, for Canada tax can vary between 17 and 20%)
Warid Telecom:
Download Prepaid IR Tariff Sheet
Terms and Conditions:
All above mentioned rates are exclusive of taxes and are charged per minute.
For activation on postpaid numbers, please contact 321 for further information.
*This rate is applicable for calling only on T-Mobile, Vodafone, T-O2, Hutchison and Orange in the United Kingdom.
To get all International dialing rates and destinations on your mobile phone, use our International Dialing Info Service
Zong:
Country
Operator
Network Code
Frequency
Incoming
Outgoing
SMS
Local
Pakistan
ROW
Satellite
Outgoing
Incoming
Afghanistan
MTN
412-40
900/1800
68
57
136
316
902
46
FOC
Egypt
Etisalat
602-03
900/1800
115
92
404
404
854
37
FOC
Kuwait
Viva
419-04
900/1800
84
103
328
1228
2046
62
FOC
Malaysia
Maxis
502-12
900/1800
58
36
351
741
1482
45
FOC
Maldives
Wataniya
472-02
900
79
34
230
343
1014
51
FOC
Netherland
Vodafone
204-04
900/1800
103
96
273
273
1859
42
FOC
Russia
NTC
250-16
900/1800
74
311
426
483
296
25
FOC
Saudi Arabia
STC
420-01
900/1800
68
106
240
421
1202
49
FOC
Saudi Arabia
Mobily
420-03
900
45
106
237
416
901
49
FOC
United Arab Emirates
du
424-03
900/1800
23
65
131
422
736
31
FOC
United Arab Emirates
Etisalat
424-02
900
23
102
184
552
760
59
FOC
Note:
    The taiffs are charged in Pak Rupees. Govt. taxes are applicable.
    Call charges have been calculated using prevailing exchange rates and are subject to change without prior notice.
    Calls are billed in minute increments
    Calls made and received while you are abroad will not include any of your Free minutes that may be applicable to your Zong Tariff Plan. Fax and Data
    Facility will not work while you are on roaming.
    Zong's International Roamers can contact our International Roaming Helpline on +92 31 444 333 22
    FOC means "Free Of Cost".