Samsung Galaxy Alpha with New Metal Design Specs Price in Pakistan. These are quite advance specifications that must open new horizons in mobile technology. There are a lot of people in the world which have purchase the latest and stylish Smartphone for show to other and create difference from others. This craze is common now a day's and mobile phone in also necessity of the people. Samsung Galaxy Alpha is one of the best and latest Smartphone's. This mobile phone is too much popular among the people of world due their smartness and features beauty. This Smartphone is the necessity of this modern age and also made this phone according to the people requirement in the world. This is the only smart phone which fulfills all the requirements and usage of the people in the advance age. Samsung Galaxy is the right choice of the people in the world. Everyone in the world wants to use internet and make video calls this Smart phone is the best for these purpose and other a lot of features. Samsung Company has been introducing the new stylish and latest Smartphone which is available in different shape with strong body. Samsung Galaxy Alpha is available now in new metal design which has a lot of other features. This Smartphone having 300 Mbps downloading speed in modern ways. There are a lot of people in different countries are likes too much this Smartphone. This smart phone is different from other smart phones in real manners. This galaxy Alpha comes with 4.7 inches colors screen and a lot of other view of display. Its other features are including two main cameras one consist in the front and other one is consist in back.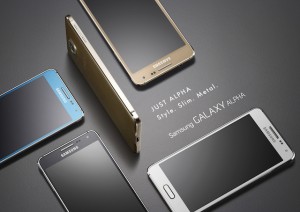 Price in Pakistan: 60,000 Rupees
Samsung Galaxy Alpha with new Metal design specs and price are including
This Smartphone network LTE Cat.6 which consists 300/ 50 Mbps
This Smartphone having 7 inches HD super AMOLED 1280 x 720
This smart phone consist Octa Core quad 1.8 GHz and 1.3 GHz
This smart phone consist AP kitkat android 4.4.4
This smart phone consist latest camera 12 MP rear and 2.1 Mp front
This smart phone consist video UHD 4k with 3840 x 2160 at30fps
This smart phone consist Wi-Fi 802.11 a/b/g/n/ac HT80 MIMO 2 x 2 and Bluetooth 4.0 BLE / ANT and USB supported
This smart phone consist a lot of other features like gyro sensor, geomagnetic sensors, hall sensor, light sensor and other a lot of features
This smart phone consist of 2GB RAM
This smart phone consist of internal memories 32GB
Long time battery 1860 m Ah
According to specs of Samsung Galaxy Alpha with New Metal Design Price in Pakistan of this mobile phone is reasonable. In future number of mobile users are waiting for this mobile phone.