Do you know that Ufone Talkville package for postpaid customers has been all highlighted for the users? Well if you are not aware from this offer then you have finally reached the right place. In this article we will be highlighting all the main details about Ufone Talkville Package for the postpaid customers. This has been not the first time that Ufone has arrived with such an interesting offer along with an attractive name. Both prepaid and postpaid customers have always appreciated the highlighted offers and packages by Ufone that has all the time grants them with the sense of easiness. In the previous timings, Ufone launched the lowest calling and SMS rates bundle for their Postpaid customers that gained much attention and interest of the ufone users. Ufone Talkville Package has been just newly announced for the customers. Let's have a look at some of the main points about this offer:
Ufone Talkville Package For Postpaid Customers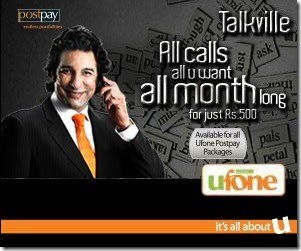 Ufone Talkville Offer allows the Ufone postpaid customers to make unlimited calls to all the Ufone numbers by paying Rs. 500 per month.
If the Ufone customers will make the calls at other networks then he or she will be charged with the usual rates. So make sure that you are just making the calls at Ufone numbers while using this package.
This offer is just valid for one month of time period.
METHOD FOR ACTIVATION:
All the desirable Ufone customers can avail this offer by dialing 333 from their mobiles or they can even visit the Ufone Service Center for getting any detailed facts and information.
TERMS AND CONDITIONS:
All the free calls can just be made within the 10,000 minutes.
After 10,000 minutes the postpaid customers will be charged with the normal on-going calling rates.
The package will get renewed after every one month.
After the expiration of the offer, the package will get deactivated themselves.
Well this was all about Ufone Talkville offer for the postpaid customers. We are hundred percent sure that after knowing all the terms and activation process, all the Ufone postpaid customers would be excited enough to avail this package. So what are you waiting for! If you want to take fun from unlimited calls on Ufone numbers then just activate the offer now before the expiry dates arrives nearer. And don't forget that you can also take help from the Ufone service centers too. HAVE FUN……