This most beneficial system is planned by Excise and Taxation department of this province (Sindh).  From last few years this online concept of vehicle verification has launched out in the remaining provinces of Pakistan as well. This makes all kind of investigation really easy, one never need to call any expert or someone else. You have to visit the portal, and then only need to enter your car registration number. Within couple of second this net work will be displaying the details like date, information about your tax payment date. Through this, you will get details like engine number and class of vehicle to.
This is a productive initiative taken by the officials because with the help of it, stolen and unregistered cars will be sorted out. This will too display information regarding the horse power of your engine and details of your vehicle model type.
It will tell you that whether your vehicle has been cleared by CPLC or whether it is not cleared. It is a must for your vehicle that it should be cleared and passes by this government department.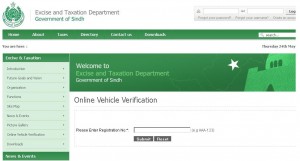 Benefits:
Some of the people have taken it in a negative sense. They commented that this portal is disclosing their private vehicle information through this online medium.
On the other hand, many people have praised this system because through this at time of purchasing one can easy check the status of related vehicle.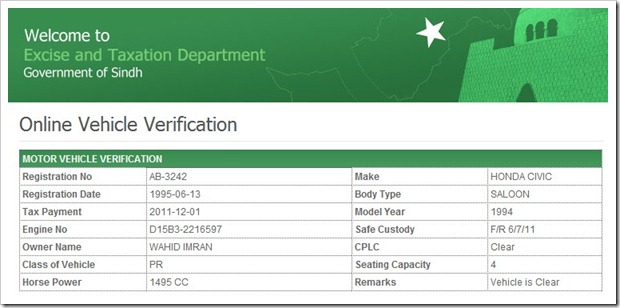 Because of the security reasons, this has been carried out. Now, no cars will be smuggled and not a single vehicle will be used for crime purposes. We have seen that in Sindh and especially in Karachi, most of the street crimes takes place because of these two reasons. This will make the vehicles to get registered under the local government.
Note: Currently Vehicle Verification System for Sindh is not available online because of maintenance issues. Hope so with in days they will recover it and available for public.
If you have any query then you can contact with the respective department as well. Make Sindh and its cities safe and sound place to be lived. Make your vehicles registered and legal. Follow the basic roles and regulations and become a responsible citizen of this country. No doubt its keen responsibility of present GOVT that they take care of all issues, but this is only possible with cooperation of local peoples.