All the Ufone customers get prepared for the bigger surprise because Ufone Rs 150 scratch card with gifts is all set to knock at your house bells. Now you might be thinking that what this offer has been all about! As we all know that Ufone has all the time arrive in the network market with something new and spanking fresh for their patrons and this time they have yet again back to make their patrons to get mad and extra crazy. Ufone has freshly highlighted its most extra ordinary exciting Rs 150 card that has been for the very first time introduced in Pakistan. But the most interesting thing with this card is that this card will be switched with the autograph of Wasim Akram. As this Rs 150 card has been highlighted for the very first time in Pakistan therefore this card has been introduced in 5 different designs for making the users more tempting for it.
In this way, the Ufone customers can not just take the pleasure from the balance of Rs 150 but will also get the chance to gather maximum autographs of King of Swing Wasim Akram. Its a happy moment that a legend come to use hi skills in this cellular net work.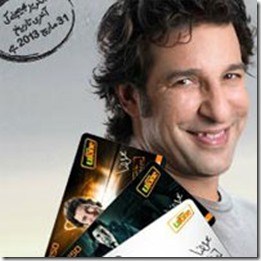 But here we would like to mention one more thing that all such users that will fill their balance account with the recharge of Rs 150 card 5 times they will be listed in the lucky draw that will give them the opportunity to go on a Malaysia trip with Wasim Akram. But make sure that if you want to get enlisted in the registration of the lucky draw then don't forget to load 5 Rs 150 cards. But all those Ufone customers who are unable to get enrolled for the lucky draw they will not be left as alone and will be offered with following prizes:
100 SMS, 300 MMS
3MB Internet,
100 Minutes Free (Ufone to Ufone)
The very last date for registering for the lucky draw is 31st March, 2013. All the winners will be announced after 10 days of wait period. Wasim Akram is the Brand Ambassador of Ufone Network and he has been himself much excited to get closer with his greatest fan follower who juts loaded the balance so many times for meeting him. Let's see that who will appear as one of the craziest fans of Wasim Akram. Register now before the date runs away.