Japanese motors are famously known all over the world for its attractive and eye catching designs. Their cars have always given stunning and artistic image to the car. This time they have introduced something exceptionally unique and fascinating for the people of Pakistan. Their latest highlighted car is Toyota Belta. Belta means beauty and this quality fully reflects in the car structure. This car would certainly be a surprising gift for the car lovers in Pakistan. The car is fully equipped with the automatic system. It can easily handle 5 people within its interior body quite comfortably. It includes 4 doors facility. It is also available in 8 different striking colors that have also helped a lot in gaining the attention of the people. Its headlights are made of shining crystals. Their engine comprises the gasoline services. Furthermore in case of models it has been widely introduced in two forms as one is 1000cc and second is 1300 cc that also differentiate the prices level as well. In this article we are discussing the specifications of Toyota Belta and its prices limit within Pakistan.
Toyota Belta Review, Price And Specifications In Pakistan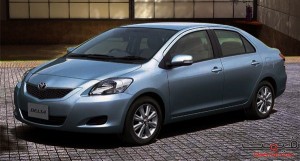 Specifications of Toyota Belta:
The entire car service revolves around the automatic version system that certainly provides easiness to the people.
It includes 4 doors therefore it can easily fit in maximum 5 people in the car.
The seating facility in the car is fully equipped with massive space and allows the person to relax and sit in comfortable mode.
The car comprises power mirrors that allow the person to turn up the mirrors by pressing a button.
Moreover, the speed meter has also been loaded on the dashboard.
Furthermore, the FM radio and DVD entertainment has also been covered in Toyota Belta.
Lastly just like their every car Toyota Belta headlights are also crystal material and also include the air conditioner services but its engine gains the gasoline facility for the people.
 Price of Toyota Belta In Pakistan:
                                                                  Toyota Belta has been widely put forward for the people in two different forms and its price also varied according to the model. For 1000cc the rates are       Rs.1, 150,000 whereas for 1300cc the price is Rs.1, 320,000.
So all the people if you want to get Toyota Belta now then don't wait for anymore car arrival and rush to motors market now and we are sure that you will fall in love with the car.