A Magazine of Sana Safinaz Winter Collection 2014-15 catalogue with Price detail of every winter dress that come on official Facebook address vol 1 and volume 2. If one sees the intro of Sana Safinaz then these two designers are said to be the biggest fashion blast in Pakistan fashion industry. This brand is all about the elegance, style and fashionable attitude. If we talk about today fashion world then this brand label has been one of the top and yet the renowned fashion designers that is highly getting earned with the special place in the hearts of millions of women. They mainly serve their patrons in the category of bridal dresses, formal wear and prêt wear collection. There is no such season that is completed without the collection of Sana Safinaz. Each year this brand name has not just make the women feel beautiful but also make them stylish with their newest and hottest collections for every season and occasional happenings. The brides have always appreciated and loved their bridal dresses and young girls and women have never miss the chance to garb the dresses of formal wear and lawn by Sana Safinaz. Newly, Sana Safinaz showcased their exceptionally stunning and mind-blowing winter collection 2014 2015 for women. The whole collection has been turned out to be quite impressive and happening for the women.
Additionally, Sana Safinaz has always given their huge attention to the utilization of superlative textile in the clothing therefore they have even filled their winter collection 2014 2015 with the material of Silk and Boski strokes. In this article we are sharing few pictures of Sana Safinaz winter collection 2014 2015. Moreover, the colors over flowing in the dresses have been pleasing to the eyes and quite lovely looking too. Here we would like to mention for the fans of Sana Safinaz that the wholesome winter collection 2014 15will be hitting down all the major outlets on 15th October 2014 next volume come soon. In other words, just like all other collection this collection has also received huge acclamation and positive response from the public. For gathering extra details about the collection and any specific on the subject of the charges you can directly get connected with the face book fan page of Sana Safinaz given below:
Face book Fan Page: www.facebook.com/sanasafinaz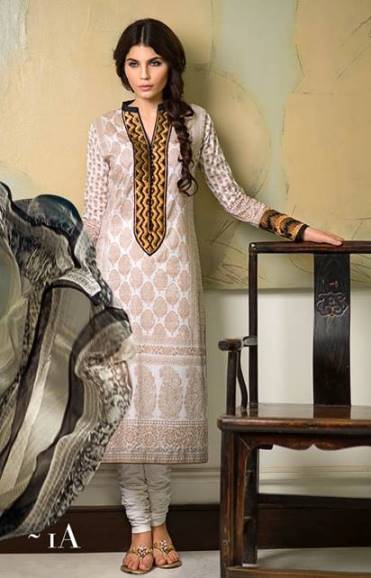 Sana Safinaz Winter Collection 2014 15

So all the women out there finally the Sana Safinaz has arrived in the market with their winter collection 2014 2015 so just stop wasting the time and get all the clothes because you never know when such striking collection arrives again. RUSH NOW…….