To start counting the best of the medical studies institute, we cannot forget while mentioning the name of Baqai Medical University. Around three decades ago, this institute was founded and at that time it produces a huge number of professionals to this biggest city of Pakistan. According to a current ranking of HEC its spot at thirteen positions.   To make your medical career a brighter and a successful one, this highly recommended institute. There is not any question about this truth that this platform has been giving its services for a long time. Its staff and faculty, its professors and lecturers deliver work by heart. Their dedication made it possible that now this place lies in the top list. In 2018 they offer MBBS Pharm D and BDS program, for all these subjects Baqai Medical University Karachi publicize fee structure for current admission whose approximate value is also here.
From this place, you can study health management and to medicine. One can acquire knowledge about dentistry and subjects related to pharmaceutical sciences. Their management always tries to make sure that quality and productive education should be given to the students.
The fact of entering here is only that you should come on merit. This uni offers no quotas and no reserved places for any kinds of students. In short, they never give favor, one need to meet up there set standards to be part here. They carry out its entrance tests and session of interviews for the selection of applicants.
Baqai Medical University MBBS Fee Structure 2018:
1st Year: 450,000 Rupees
 2nd 3rd 4th year: 410,000 Rupees( Maybe this will change a bit, so make sure from the below phone number.)
For BDS: Not Sure

For Pharm D: Not Sure
If one observed their working in deep then it is seen that this comprises of many of the institutions in it. You will apply in your interested areas; this is not a new division in this place of study. From day one they divide their all set up in multiple parts; through this, it's easy to handle all things.
Contact Number: (092-21)34410-293 to 298, 34410-427 to 430
Note: The above fee structure is an approximate one. So it's better to collect info from above numbers.
Baqai Medical University Fee Structure 2018 for MBBS Pharm D BDS Admission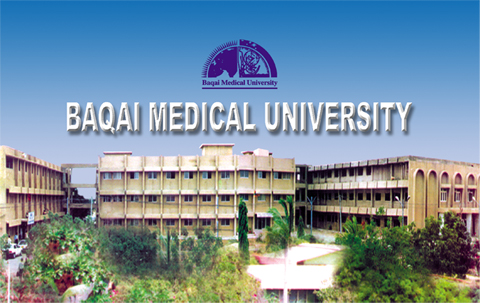 It should be noted that they have much strict admission policy. If you want to take admission in this subjected university, then you should work extremely hard to get connected with this institution. Otherwise, they will not permits one to starts up here. Time to push final button on your career but its again needs your final efforts to. So if one accepts this task then go and work more then last year.