Leasing of car is not big problem in Pakistan because now number of banks offers number of financing program. Among this Faysal Bank Car Leasing is easy, their finance procedure is also easy to understand. Their installment plan or one can say that loan calculator is covering multiple type of calculation option. Through their programs one has number of options, and according to affordability one can full fill the dreams. This is in first priority of this bank that they satisfy their client. Here we try to cover all of the options that must help one. Starts from the types of leasing then they divide them in three finance plans.
Auto Finance
Faysal Bank Car Finance through Credit Cards
Faysal Car Finance
"Auto Finance"
Through this plan bank will give a certain amount of money, they are joint partner of car. In easy words if one arranges a specific amount of money and car price is up from this range then one can apply in bank to get remaining amount.
One also has option to get brand new or used car.
Installation of tracker after which your car becomes secure.
One has option to extend plan up to 5 years.
Installments plans are starting after purchasing of car. Through this one can safe form extra interest.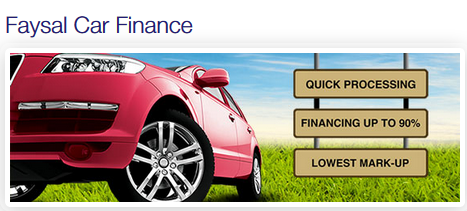 " Car Finance through Credit Cards"
This plan is only for those customers that have ex-RBS branded Credit Cards, this is also for brand new and used car. Again through this
Minimum mark up is charged from client
They also charged minimum insurance price, as well a death insurance policy is also attach in this plan.
Most important is that this plan is complete in minimum period of time.
"Faysal Car Finance"
This is most general plan through which one can get maximum amount of car as loan. Again its processing is quite fast. But for this bank require greater number of documentation and eligibility criteria is also strict but again this is best from others.
Eligibility and Required Documents
After this one can makes a better idea about Faysal Bank car leasing in Pakistan through which now it's really easy to finance car. While loan calculator is also really to use after which one can makes a better idea about installment plan. If one is thinking to buy a vehicle and he has shortage of budget then this is best option to buy.