As a whole, Proton Cars price in Pakistan 2023 of either Saga and X70 is supposed to be normal. And yes, its a good news that an Pakistan automobile group set themselves to assembler proton cars in this country. They focused on advance technologically car including hatchback, sedan and crossovers in Pakistan. Surely, when proton vehicle will be developed in this country than other automobiles like Suzuki, Japanese and Honda prices are decreasing automatically. Furthermore, an local group has already bought land to set up their manufacturing. The modern vehicle will be introduced in different categories.
Moreover, now a day this company selling FAW and Hyundai heavy vehicle duty in the country. Hopefully, they will also bring the first electric car in Pakistani that must play a major role to fight with the energy crisis.
Proton Cars Price in Pakistan 2023:
The Proton cars price in Pakistan 2023 is calculating with the vehicle type, model and specs. Some exciting cars of this brand are the following.
Proton Saga 2023 Price in Pakistan:
Of new Proton Saga 2023 price in Pakistan will start from 28 Lac Rupees. Further, the exact rate will confirm after its proper sale. One can either buys its manual or else Saga automatic car too.
| | |
| --- | --- |
| Basic Saga Manual Price | 2,825,000 Rupees |
| Price of Proton Saga Automatic basic variant | 3,150,000 Rupees and fully specsed variant in 3,300,000 Rupees |
Proton X70 Price in Pakistan 2023:
The range of Proton X70 Price in Pakistan lies in between 67 Lac to 72 Lac. This price is varying on the bases of specs that also differentiate its executive and premium variant.
| | |
| --- | --- |
| X70 (AWD) | 6,750,000 Rupees |
| X70 (FWD) | 7,195,000 Rupees |
We expect a different feature in this car.
Driver & passenger airbags
Side mirrors with integrated turn signals
Front and rear parking sensors
Engine immobilizer etc.
However, the saga currently testing in Lahore and put up spec version with a CVT gearbox. While, buyers will also get its spare parts in less prices too.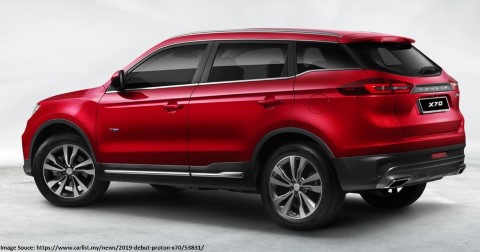 Basically, the origin of "Proton" is connected with Malaysia. About 2 decades ago, the proton and Mitsubishi collaborated because they wanted the production of the first Malaysian local car. Within limited time, both companies were successful to manufacture of the proton saga and launched. The production of the proton was very helpful for both of them. Different spare parts and other technical expertise were manufactured by just only this company.