Do you want to find Price, Specs and Features of PTCL 3G EVO Wingle 9.3 MBPs then this is best place from where you can find whole basic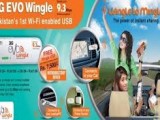 information about specifications of Evo wingle. This is a device through which one can enjoy a good internet speed of 9.3 mbps so it's a best chance of browsing at this marvelous speed. PTCL always facilitate their users with best features, due to this now it will become a top users company that provide the facility of net. Further detail of this EVO Wingle is given as below.
Specifications and Features of PTCL 3G EVO Wingle:
This is a USB device that has internal facility OF Wifi.
You can connect up to five systems through this Wi-Fi.
Its range of connectivity is 100 meters.
PTCL also announce 3G connectivity in this USB device.
The most important is the speed of 9.3 MBPS that remain same after multiple connectivity.
For security system one can secure it through applying password.
Price of EVO Wingle:
There are two different options according to price of PTCL 3G EVO Wingle 9.3 MBPs. Here we discuss both of these options.
First one is that by giving three or four month advance monthly charges you get free internet device.
While second one is that they announce price of 4000 for internet EVO Wingle USB device. So in this offer it's necessary that you give the price of USB in advance while monthly charges also detected as tariff rates.
According to price and specification of EVO Wingle this is one best internet device so must take benefit from this internet facility.