There are top type of Washing Machine Cover in Pakistan that are for Top Loading automatic machine and Front Loading. But the most usable machines are top loading in Lahore Karachi Rawalpindi and Islamabad, so the demand for this type covers are high compared to others. So, to get them, COVERS MALL is a brand in the market that is doing such a fantastic job. Meanwhile, their prices are suitable that makes them popular in a very short time. From the time, automatic machines came into the market, peoples are worried regarding their protection. Because this is a type of appliance that one cannot keep inside the home and the advanced technology makes them more sensitive. So its protection is really important and COVERS MALL steps forward to don work on it.
Washing Machine Cover Price in Pakistan:
The discounted Washing Machine Cover Price in Pakistan is 1000 Rupees of Single tub and 1400 Rupees is of Twin Tub. To buy or order from the COVERS MALL, you can contact on the below number or Visit their Facebook page too that is also very responsive as well.
How to Order?
Simple review the table to check their number for the purpose to order on call or through FB Page.
| | |
| --- | --- |
| COVERS MALL Contact Number to Order | 0341-4241454 |
| To contact or Order Online | COVERS MALL Facebook Page |
| Single Tub Washing Machine Discounted Price | 1000 Rupees |
| Twin Tub Washing Machine Discounted Price | 1400 Rupees |
Sizes of Washing Machine Cover:
Yes, Covers Mall stitches the washing cover as per the dimensions of your machine model. If your machine is automatic and it's of Haier, LG, Samsung, or even of Dawlance they can gather their dimensions online and then make these covers accordingly. Or if the machine is manual then u need to send the dimensions manually. So sizes are not a big issue.
Real Pics of Washing Machine Cover: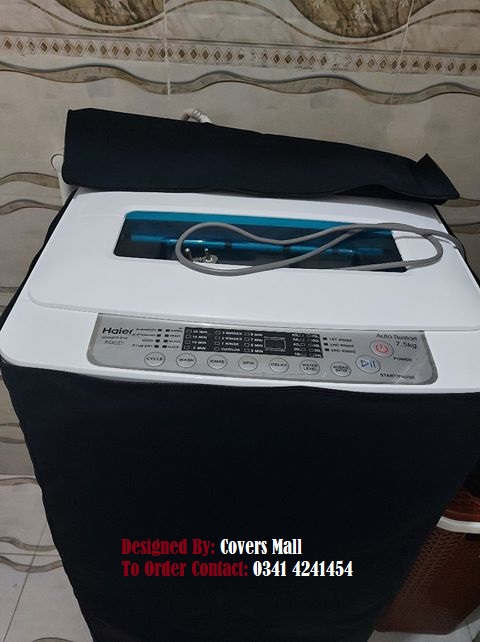 Stuff or Material used for these Cover:
This brand used imported waterproof parachute fabric for Washing Machine Cover. Oh, it's just amazing that one will protect the machine from dust and water as well. What else one will expect from them.
Real Pics of Automatic Washing Machine Covers:
Undoubtedly, Covers mall has offered the wholesale rates that yield different covers to the people that after using this they can easily protect their things. Best wishes to them that they will carry on the good work. Apart from the washing machines, one will also buy covers of many other appliances too.