Engineers Jobs OG3 in SBP State Bank of Pakistan are come for which they invited the applications for the jobs of the professional engineers that are having in BSC Engineering degree of Electrical, Civil and Mechanical professional engineers in the various posts of OG5 and OG3. These vacancies are announced for Executive Engineer Civil (OG-3), Executive Engineer Electrical (OG-3) and including Executive Engineer Mechanical (OG-3). The eligible candidates must be submitted their application form download from the SBP website and submitted their application form of the posts of OG-5 at least 12 December, 2014 and there will be not any application form under-consideration after due date. Remember that only short listed candidates invited for the interview by the selection recruitment board of SBP. On the other hands the candidate who's eligible and fulfill all requirements for the posts of OG-3 must be registered themselves through NTS (National Testing Service) and must e appear in the entrance test that's conducted by the NTS on 11 January, 2015 and only short listed candidates will be selected for interview and the whole procedure is based on fully merit.
Last Date to Apply: 11 January 2015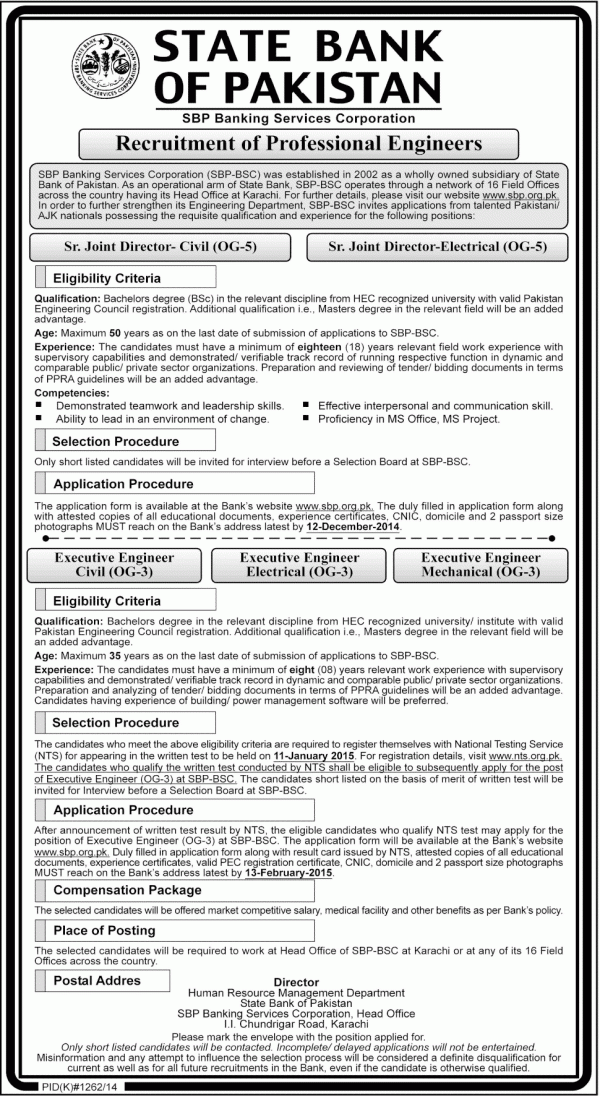 The candidates must be passed their entrance test will be conducted by the NTS should be downloaded the application form from the SBP bank website and filed it and send to it with result card that issued by the NTS must be reached before 13 February, 2015. This is a golden opportunity for professional engineers to see their skill because this is the right place of engineers. State Bank of Pakistan Baking Service Corporation (SBP-BSC) was established since 2002 and working under the State bank of Pakistan and after the final selection of engineers appointed anywhere in Pakistan. So the candidates must be appear in this entry test and best wishes for the candidates for their bright future.