Do you want to find BZU Lahore admission 2013 Application form, Online Registration?  Bahauddin Zakariya University Lahore Campus admission opens for season 2013 from August 2013. Candidate can submit his filled Application form or in other words complete his registration to till 9 September 2013. This admission is open for various programs of under graduate and post graduate. Especially almost total major programs of under graduate are cover in these admissions that are of 8 semesters. While major programs of master also offer during these admissions that are almost 4 or 6 semesters. The most important are the MPhil programs that are too much important for all those who going abroad to get the degree of doctorate. Further details of these admissions are given as below.
Last Date for Submission of Application form: 9 September 2013
You can download this form from: www.bzulahore.edu.pk
BZU Lahore admission 2013 Application form, Online Registration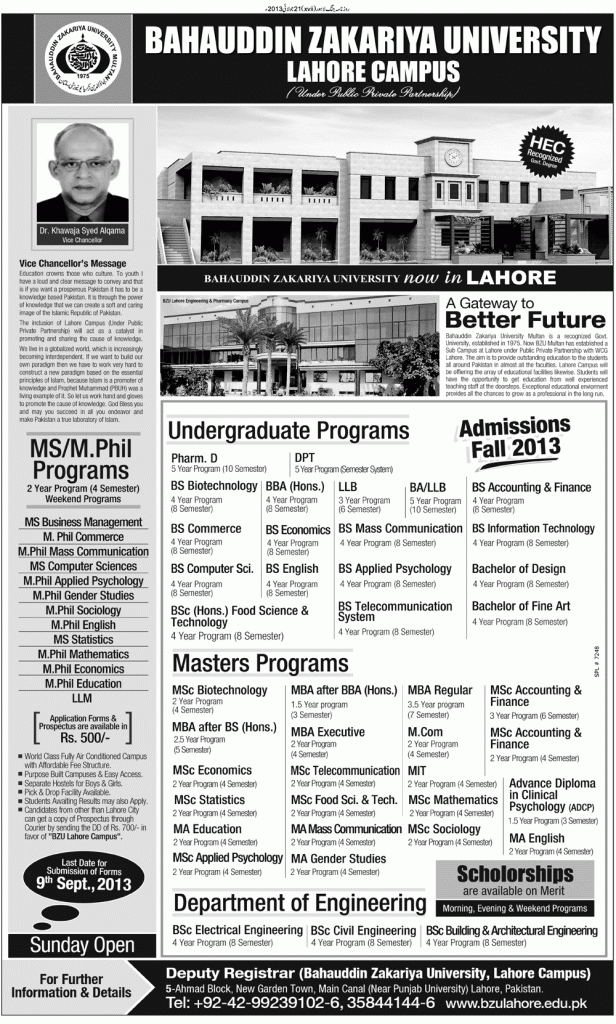 Lahore campus of BZU starts their working from this year. Now difficulty of students in order to going Multan is removed after establishment of this campus. Now they get standard education is a reasonable and affordable fee. They give a lovely atmosphere in this campus, almost whole campus is air conditioned. While higher faculty is also consist of those persons that had wide range of experience in this field. For higher faculty they announce criteria that are necessary for recruitment of any person.  For students facilitation they also announce pick drop facility. So all desired students that wants to get admission in  BZU Lahore 2013 must fill this Application form and complete Online Registration.
 While during these admissions desired persons can get prospectus through courier. The most important thing is that price of these prospectus is reasonable. If you direct get it then they charge 500 rupees with application form while 200 additional charges are detected on getting courier facility. It's a best chance for all those candidates that desired to take admission in BZU Lahore and complete their online registration.