In the today world, Kashmir issue is one of the biggest unresolved International issues. This conflict has been a major bone of disputation since the Independence Day, which results in three major wars, causing various conflicts and rigorously severe diplomacy between Pakistan and India. This issue has been raised many times even the United Nations Security Council made efforts to resolve this oldest and biggest issue by announcing that the accession of Jammu and Kashmir to Pakistan or India must be done through democratic way by organizing a fair plebiscite but India don't want any arbitration its claim about Kashmir.
The basic purpose of celebrating Kashmir Day is to seek a peaceful and nonviolent solution against this biggest problem, and give a pragmatic image to the International community. Furthermore, it is the essential duty of International community to raise this issue and to realize the stability and peace in Asia. This could only be happen if all the biggest disputes are resolve between Pakistan and India as Kashmiri people are residing in the heart of every Pakistani People.
Pakistan will always be in the front line for providing Political, Moral and diplomatic support to this biggest cause. Moreover, everyone knows that Kashmiri's should have freedom of expression for their decision as this biggest issue is not able to resolve without the involvement of people of Kashmir.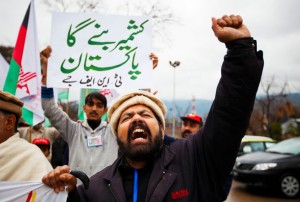 In 1990, Kashmir Day become a major concern on the call of the Prime Minister of that time. So in Pakistan, 5th February of every year, the unity day is celebrated against the India state terrorism and to show the unity with the people of Kashmir and acknowledge the efforts of local people. It is day to raise the voice against the annihilation ranging in Kashmir since 64 years.
In this day rallies, processions, seminars and conferences are conducted by numerous religious and Political parties where heads of politicians and religious organizations, opinion leader's addresses against the masses and to support the Kashmiri freedom movement. Kashmir day is a publically non working day in AJK and Pakistan.
All the Government offices, institutions and business remained closed during this day to show solidarity with people. And in this day every Pakistani should remember the Kashmir martyrs in their special prayers and must pray for victory of the freedom struggle.