At last, a date for the CSS Exam Schedule 2019 has been all published for all the students and candidates. This is one of the most significant examinations of Pakistan that held for the recruitment of 17th scale jobs. CSS is basically an entry test that will be taken by fpsc for the Federal Services. This time, this test has yet again held for all the candidates who are in the desire to make their future in the Federal Services Department. The very last date for the submission of the application form has been set as 12 December 2018. After this date, no more application forms will be accepted at any cost. Keep an important thing in consideration that there is no chance of changing in this schedule. So must follow the dates.
CSS Exam Schedule 2019:
The overall review of CSS Exam Schedule 2019 shows that now only a few months will remain from the examination day. So now every minute is important.
CSS Exam Date 2019:
It's 14 February. Some other detail is clearly indicated in the below text.
CSS 2019 Last Date to Apply:
Subsequently, as per CSS exam schedule 2019, one can apply from the date of 28 Nov to till 12 Dec for this test.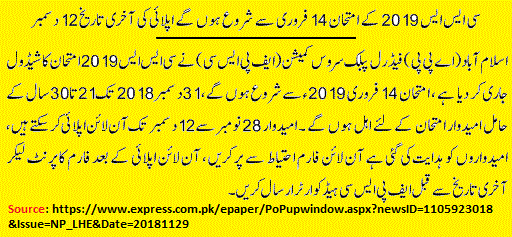 Examination Centers For CSS:
Abbottabad,
Gujranwala
Larkana
Quetta
 Bahawalpur
 Hyderabad
Multan
Rawalpindi
 D.G. Khan
Islamabad
Muzaffarabad
Sargodha
Karachi
Okara
Sialkot
 Faisalabad
 Lahore
Peshawar
Eligibility Criteria FOR CSS Examination:
All the students and male and female candidates are required to pass their bachelor degree within the age of 21 to 30 years and that too with the 2nd division.
CSS Examination test also runs for the women as well as the Federal Government has occupied 10% seats for women and 5% seats for the minorities and disabled people.
Application Form Availability Details:
All the candidates can get the application forms from the Federal Head Office, Regional Office or Provincial Offices at the cost of Rs. 1500. Or one can also complete registration online.
The application amount can be submitted in any branch of State Bank or Habib Bank Limited. Cheques, money orders or bank drafts will not be accepted.
All the students can also download the application forms from the website www.fpsc.gov.pk.
Candidates should attach all the educational documents with the attested photocopies and once the student has selected one examination center it will not be canceled in future. Furthermore, CSS exam schedule 2019 has cleared the CSS exam date 2019. At last of this writing, we wish best of luck for all those who are ready to appear in this exam.