CSS Examination date and schedule 2013 has been all announced for all the students and candidates. CSS is basically an entry test for the Federal Services that is undertaken every year in the month of February and this time this test has yet again appeared for all the candidates who are in the desire to male their future in the Federal Services Department. The very last date for the submission of the application forums has been set as 31st December 2012. After this date no more application forums will be accepted at any cost. The examination will be commenced on 23rd February 2013.
CSS Examination Date And Schedule 2013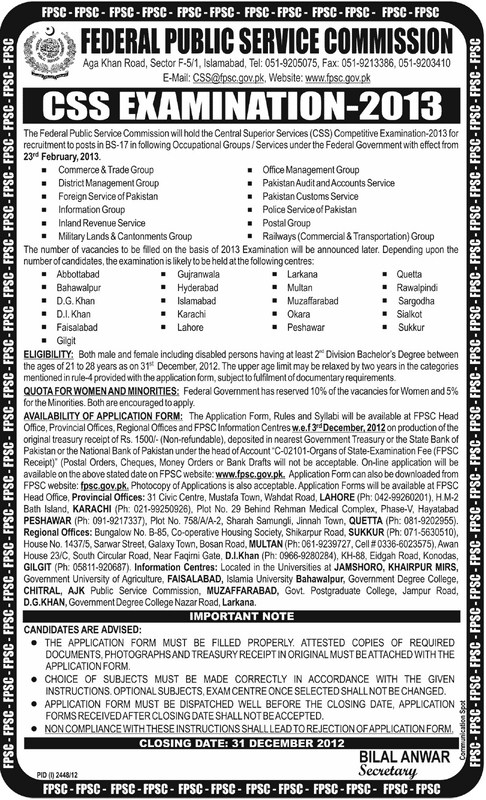 GROUPS IN THE CSS EXAMINATION:
Commerce & Trade Group
Office Management Group
 District Management Group
Pakistan Audit and Accounts Service
Foreign Service of Pakistan
Pakistan Customs Service
Information Group
Police Service of Pakistan
Inland Revenue Service
Postal Group
Military Lands & Cantonments Group
Railways (Commercial & Transportation) Group
EXAMINATION CENTERS FOR CSS EXAMINATION:
Abbottabad,
Gujranwala
Larkana
Quetta
 Bahawalpur
 Hyderabad
Multan
Rawalpindi
 D.G. Khan
Islamabad
Muzaffarabad
Sargodha
Karachi
Okara
Sialkot
 Faisalabad
 Lahore
Peshawar
ELIGIBILITY CRITERIA FOR CSS EXAMINATION:
All the students and male and female candidates are required to pass their bachelor degree within the age of 21 to 28 years and that too with the 2nd division.
CSS Examination test also run for the women as well as the Federal Government has occupied 10% seats for women and 5% seats for the minorities and disable people.
APPLICATION FORUMS AVAILABILITY DETAILS:
All the candidates can get the application forums from the Federal Head Office, Regional Office or Provincial Offices at the cost of Rs. 1500.
The application amount can be submitted in any branch of State Bank or Habib Bank Limited. Cheques, money orders or bank drafts will not be accepted.
All the students can also download the application forums from the website www.fpsc.gov.pk.
Candidates should attach all the educational documents with the attest photo copies and once the student have selected one examination center it will not be cancelled in future.
CONTACT DETAILS WITH INFOMRTAION CENTER:
FPSC Head Office,
Provincial Offices: 31 Civic Centre, Mustafa Town, Wahdat Road, LAHORE
Ph: +92 42 99260201
H.M-2 Bath Island, KARACHI
Ph: +92 21 99250926
Plot No.29 Behind Rehman Medical Complex, Phase-V, Hayatabad PESHAWAR
Ph +92 91 9217337
REGIONAL OFFICES:
Bungalow No. B-85, Co-operative Housing Society, Shikarpur Road, SUKKUR
Ph +92 71 5630510
House No. 1437, Sarwar Street, Galaxy Town, Bosan Road, MULTAN
Ph +92 61 9239727, 0336- 6023575
Awan House 23/C, South Circular Road, Near Faqirni Gate, D.I.Khan
Ph +92 966 9280284
KH-88, Eidgah Road, Konodas, GILGIT
Ph +92 5811 920687