Orthopedics is the kind of surgery that deals with musculoskeletal system. In this both surgical and no surgical means are used to treat. We found so many people searching for the Best orthopedic surgeon doctors in Lahore and we came along with the list of best ones in this city. It is very sensitive treatment, in case of a minor mistake, whole part of body had stopped work. That is why we have given you list of the experienced doctors and Hospitals Not only their names, their contact numbers are also mentioned. If you ever feel pain into your Joints, knees, backbone, arms or in any other bone you must consult with them. Our health is everything and we must not compromise on it, if you feel any problem you better go to doctor in first priority. If you belong to this city and want to know about these places, have a look on the below given list. For information this treatment is quite costly, so those who are not afford privately they must consult them in government hospital. But its not possible to find online that at which place they perform duties. For this must visit govt places and get details.
Best Orthopaedic Surgeon Doctors In Lahore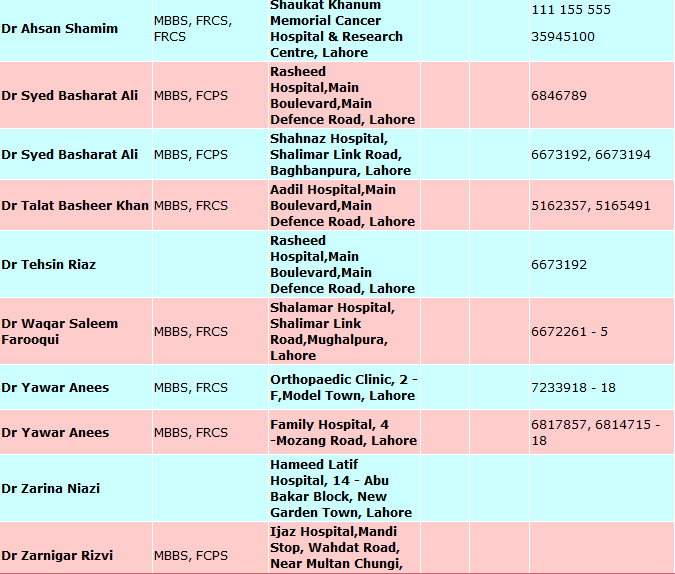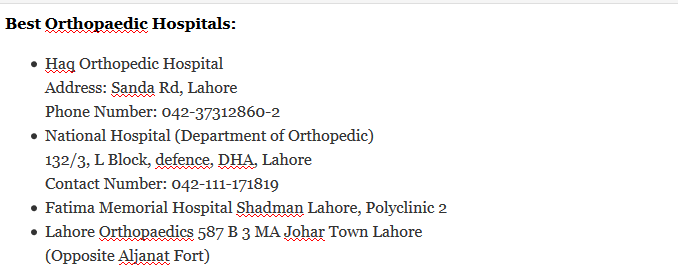 These are some best orthopaedic surgeon doctors In Lahore that are specialist so get appointment from them before going to clinic. Or address of hospitals are also given where one get some best treatment. These are only private place, now in every government hospital a proper department is worked on it, So must visit any of the place and check to get rid of any problem.
Although every pain hurt one, but this is more severe. Because every activity is going to its end if any of part is injured or broken. While its too much painful time, with all of this injury require a handsome time for recovery so consult at right place before the time is going crucial stage.