Qualification and eligibility criteria required Application form download for the University of Central Punjab (UCP) announce the jobs vacancies for 2014 including professors, assistant professors, associates professors and lecturer and also lab instructors in faculty of information technology IT and faculty of engineering. Last Date for the highly qualified candidates must be submitted their application form before 08 December, 2014 and after that submission application will not be accepted. The candidates must be applying for Electrical, Mechanical, and Civil and also Computer system engineering and the eligible candidates must be registered with PEC (Pakistan Engineering Council). The candidate must be downloaded the application form from the university website and also seen their eligibility criteria and remember that the application invaded for lab instructor is only for computer system engineering.
University of Central Punjab provide the quality of education for the youth of the nation and provides all the facilities to students that really needed for the students in this modern age. This university is really known how to teach the students and provides the comfortable environment for the students.
Last Date for Apply: 8 December 2014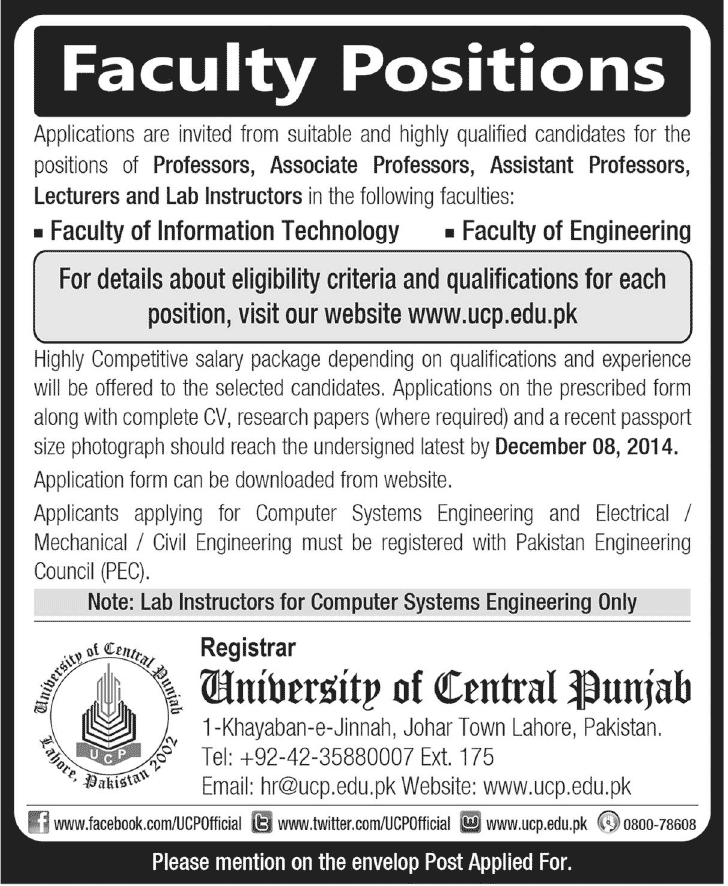 Requirements for Apply:
CV that is properly written
Research Paper
Passport size Photos
Application Form are available at (Click here to Download)
This university is having a lot of other faculties which are including soon jobs for every of faculty is in pipeline. So soon they are also announce that give a job opportunity for intelligent candidates.
UCP Business School.
Faculty of Engineering.
Faculty of Information Technology.
Faculty of Commerce.
Faculty of Art and Social Sciences.
Faculty of Law.
Faculty of Pharmacy.
School of media and Communication Studies.
This university is having well educated professional and also experienced stuff and really known how to teach the students in comfortable environment and really known to their profession and also their related to the guidelines and also provides the facilities to students for foreign studies. The students must be visited the university website and see their eligibility criteria and applying according to their related fields and best of luck for their future. Before last date download Application Form UCP Faculty of Engineering IT Jobs 2014 Associate Assistant Professor Lecturers and lab instructors and get benefits from these opportunity.