IST Institute of Space Technology has been announced the admission 2014 date for the MS and PHD programs for graduate students for which Eligibility Admission Criteria Apply online and application form download details. This program starts in the field of Aerospace engineering, Material and science engineering, Electrical Engineering, Mechanical Engineering, Remote sensing and geo information sciences, Astronomy and Astrophysics. IST Islamabad has also announced admissions in Ms-link program IST University of Surrey, UK in different fields. If anyone wants to get admission for MS and PHD programs they can apply online before 31 July, 2014. The online admission charge is just Rs.15, 00 to pay at any online branch of Habib bank ltd. After the due date application cannot be under consideration. The test date will be announced soon after the completing the process of application forms and the only short listed candidates will be selected for test and interviews.
The NTS-GAT test is valid for the admission in IST Islamabad for graduate programs. The candidates are required to take the GAT-General/GAT-Subject conducted by the NTS for admission in graduate program must be submitting the result with the application.
This programs available are authorized by the HEC and as well as PEC. IST Islamabad also offers connected graduate program in effort with international universities in the host of disciplines and offering a solution to earn an international degree economically.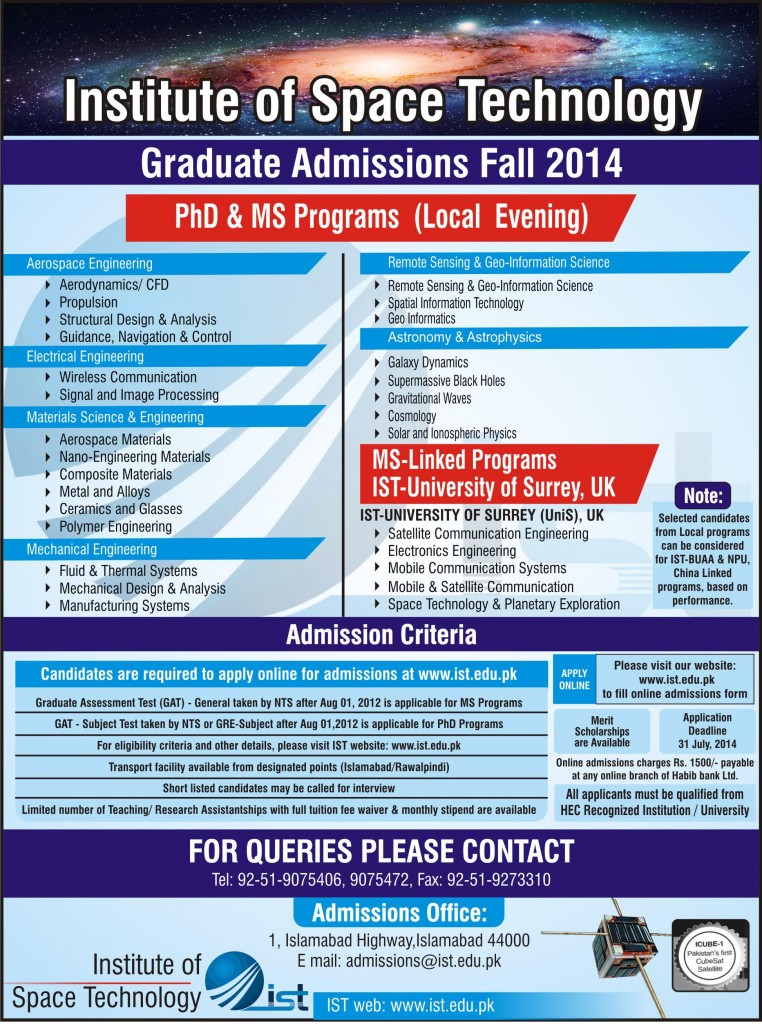 Admission Criteria:
For MS programs GAT General taken after August 2012 is applicable.
For PHD program GAT Subject or GRE subject is applicable and this test will must take after August 2012.
Admission Start Date: 15-Jun-2014
Application Deadline: 31-Jul-2014
Programs offered for PHD and Program (Local Evening):
Aerospace engineering
Material and Science Engineering
Electrical Engineering
Mechanical Engineering
Remote Sensing and Geo-information Sciences
Astronomy and Astrophysics
Ms-link program IST University of Surrey, UK
General Eligibility Requirements-MS
General Eligibility Requirements-PhD
IST Islamabad was established in the year 2002 and the educational institution that would be impact specialized education in space and related to bring our nation at par with the international community. IST aims to provide the state of the art training facilities that will enable IST students to acquire hands on experience and made the students professional. IST provides highly qualified, experienced, professional stuff for students which teach the students in fair and innovative manners.