Quality institute for higher level education impacts on betterment of society. Actually these platform are the sources that produce different sort of professionals to community. University of Swabi is one of the institute that starts working in a area where its necessary to take a step through which some qualified person will serve at local level. This university has been announced the admission for 2017 few days ago for the undergraduates students for which dates are announce. The candidates who's submitted the application form in University of Swabi will wait for the selection of their name in 1st or may among 2nd merit list 2017. Let see who are the lucky new comers that will get chance to be part of this varsity. Its responsibility of all final students that they do their best under this platform.
The first merit list will display for different discipline on 11 Sep by the officials and the interview will be conduct for selected students on 14, Sep. The selected students for various discipline should be deposited their fee on 18 September.

The candidates who are not selected in the first merit list may be eligible in second merit list and the second merit list will be announced on

21 Sep

and after that the interview will be conducted on those students and deposited their fee on

27 September.
After second merit list if the seats will not fill or any one will fail in interview or not selected other reasons then official announced the third merit list.
The program offered that are announce admission this year
BSC Agriculture
BBA
BS Computer Sciences
BS Geology and Microbiology Pharm D programs other are in below advertisement.. Further eligibility is also in below add with all other requirements.
Merit List:
or May be

This university is one of the most desirable platform in this region because they provide best standards. Their target is to come in list of top class universities that provides the safe, secure and comfortable environment which is need of every student.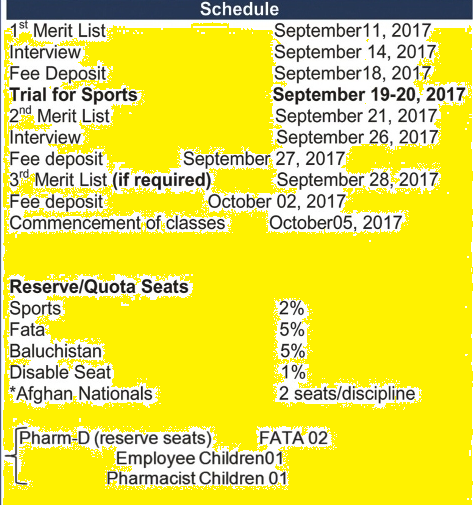 This university provides the all the other facilities like hostel, transports and other well recognized laboratories for excellent research. Best of luck for those students whose submission the application for and become their bright future and hopefully you get name in 1st 2nd Merit List 2017 of University of Swabi and plays your role in the community .