BOP Bank of Punjab Application Form download for  Apna Rozgar Scheme 2014 2015 by CM Punjab for Bolan Ravi.  The Government of Punjab tiring to best effort to reduce the unemployment in all over the Punjab and promote their business and become owner of every persona of their business that's belong to Punjab province. The government of Punjab has been lunched the CM rozgar scheme for Suzuki Bolan and also Suzuki Ravi with the collaboration of The Bank of Punjab. Through this scheme every youngsters that are belong to province Punjab to become owner of these vehicle and start their own business. The interested candidates should be submitted their application form before 28 November, 2014 in any branch of BOP in all over the Punjab and application form will be avail be on all BOP branches. This scheme started only based on 100% merit by the Chief Minister of Punjab Shahbaz Shareef and this scheme provides the Bolan and Ravi in easy and affordable installment. The candidate pay installment against Bolan just only Rs.10, 000 and also against Ravi should be pay just Rs. 9000 installment per month and youngsters can avail this vehicles 40,000 less rate as compare to the market values. Government of Punjab will be starting the latest projects to provide the employment of the youngsters of the Punjab like this Rozgar scheme and the aims of this government to finish the unemployment in all over the Punjab.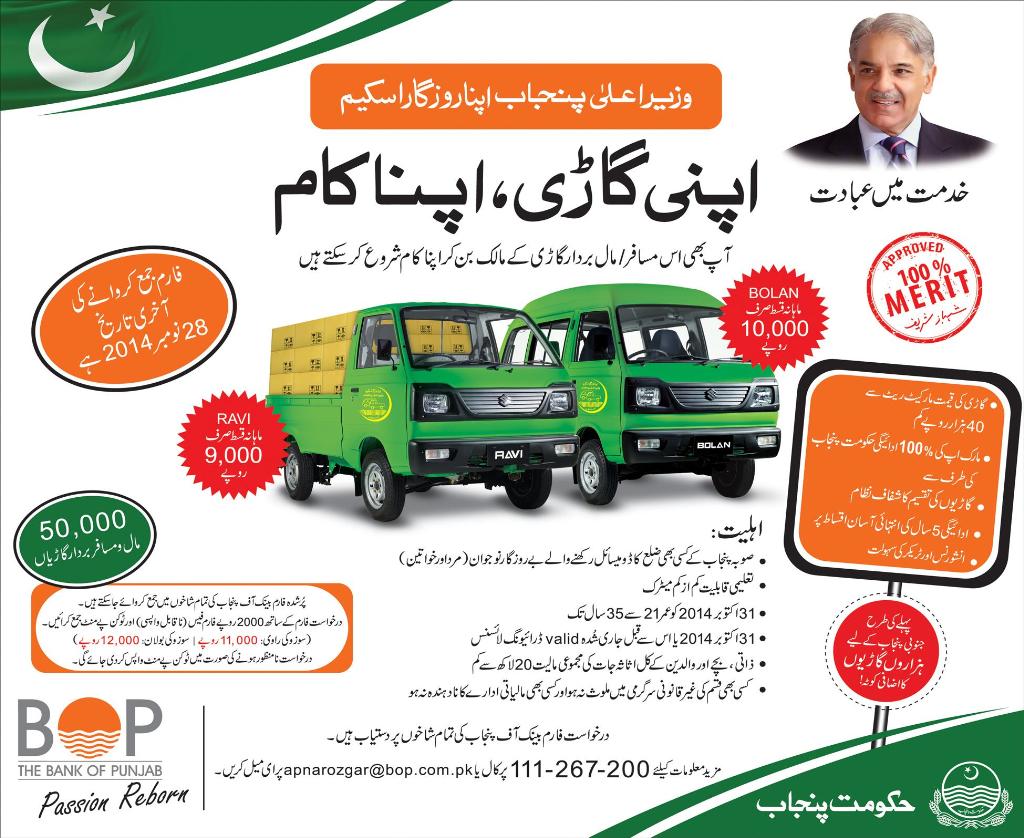 This scheme provides the facility to youngsters to pay easiest installment within five year and become owner of their vehicle and also provides the complete security of this vehicle like insurance and tracking system. The first priority of the government to become this process need and clean that's based on merit to distribute the vehicles.
Eligibility Criteria:
All candidates are eligible that having domicile of province Punjab.
Candidates having age limit 21 to 35.
Valid driving license.
Must be having Matric pass certificate.
Total assets of candidates must be less than Rs.20 lace.
Its necessary that one must download BOP Application Form Apna Rozgar Scheme by CM Punjab for Bolan Ravi vehicle before given date and submit it at given centers where they advice to submit it.