Warid and Telenor is going to be announced the PTI caller tunes codes list that's heart beat of the every youngster that's really love with Chairman of PTI Imran Khan. Soon these caller tunes are also available in Ufone Zong Mobilink Jazz. Because PTI party songs is too much popular among the youngsters and this time every Pakistani set these party song as their mobile caller tune and this facilities provides by the Warid and Telenor companies. There is no any doubt number of Telenor users are greater then any other network and Warid is also introduced 4G LTE services in all over the Pakistan. Now this time these tunes are so famous because the youngsters are so crazy to use this ring tune on their mobiles and they asked their codes to use efficiently.
PTI is one of the great parties in Pakistan and most famous party after the Azadi Darhna and shows their people strength is different kinds of Jalsa's throughout the country. The people of Pakistan enjoyed with party songs that becomes caller tunes. Warid is provides the facilities of these caller tunes to use on their mobile phones but telenor introduced this facilities for the youngsters in different styles with newly technology as soon as possible.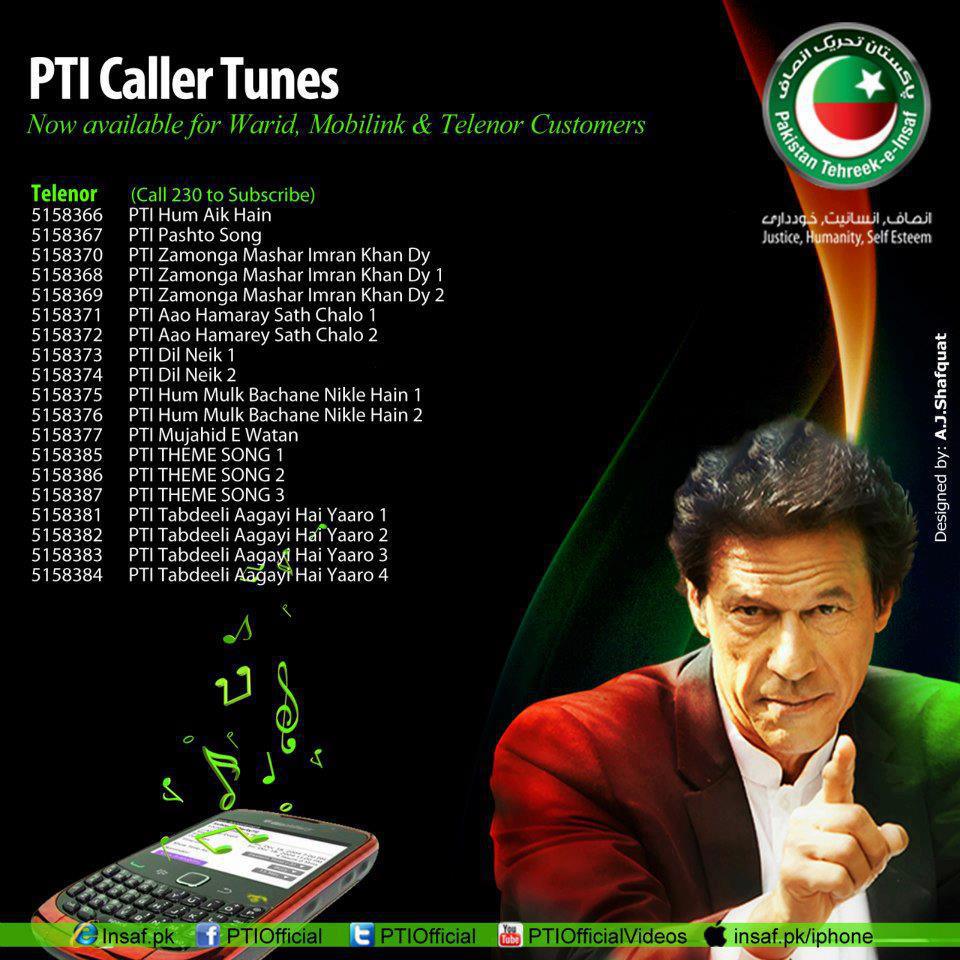 PTI Caller Tunes for Warid:-
To subscribe these caller tunes just dial 105.
35794 PTI Tabdeeli Aagayi Hai Yaaro
35795 PTI Tabdeeli Aagayi Hai Yaaro 1
35796 PTI Tabdeeli Aagayi Hai Yaaro 2
35797 PTI Zamonga Mashar Imran Khan Dy
35798 PTI Zamonga Mashar Imran Khan Dy 2
35799 PTI Zamonga Mashar Imran Khan Dy 1
35800 PTI Tabdeeli Aagayi Hai Yaaro 3
35803 PTI Hum Mulk Bachane Nikle Hain
35804 PTI Kon bachaye ga Pakistan 1
35805 PTI Hum Mulk Bachane Nikle Hain 1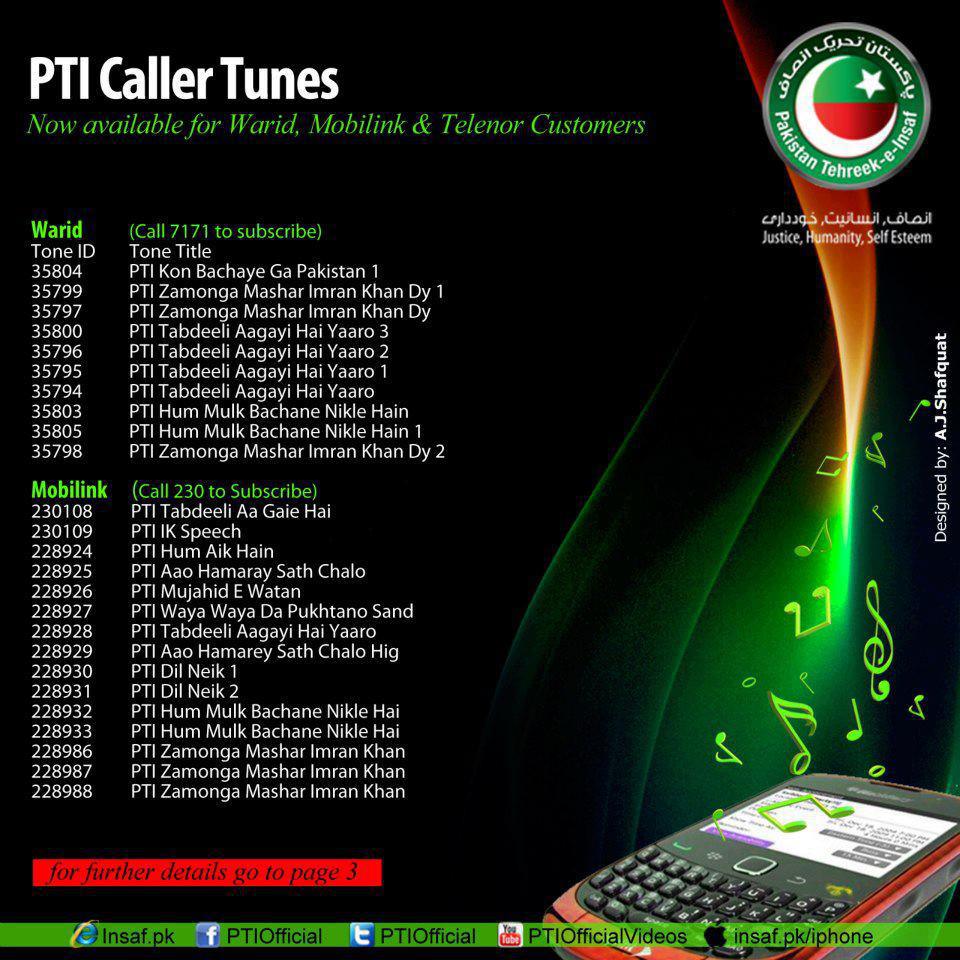 The aims of PTI Chairman Imran Khan to serve the people of Pakistan and provides the all facilities to the poor people of Pakistan they need it and due to this vision all youngsters likes this vision. This vision is really seen in these caller tunes and PTI bring the real change in Pakistan. Another thing that is also sees in this party is that they always try to get benefit from latest technology. This is positive aspect of this party and they get lot of benefits from this strategy. Now as number of mobile users are going higher and with this caller tunes are also attract users that why officials also announce PTI Caller Tunes for Warid and Telenor.