A party that exists with the slogan of true democracy is now on its way. They always aim to follow positive political roles; this is the logic that again in 2016 PTI announce intra party election. A little bit change has done in its schedule, but before this it's important to complete procedure of registration. Because only member participate in voting who votes are registered. After completion of polling result starts to declare in Punjab and KPK also for the seats of district tehsil and UC presidents in first phase 1. Then these member votes for the selection of division presidents and also for governing body too in second phase 2. This is positive sign because they full fill the promise to elect all body member form district to governing body on bases of merit. If they held it in true manners then no doubt it's a big achievement of this party.
A complete commission is establish that is responsible of look after all things of these elections from district level to upper one. Under the supervision of Tasneem Noorani all team member work hard on daily bases to organize it in best way. This EC is appointing on the advice of Chairman Imran Khan to control on all problems.
Date for Polling: After 15 April
"Schedule"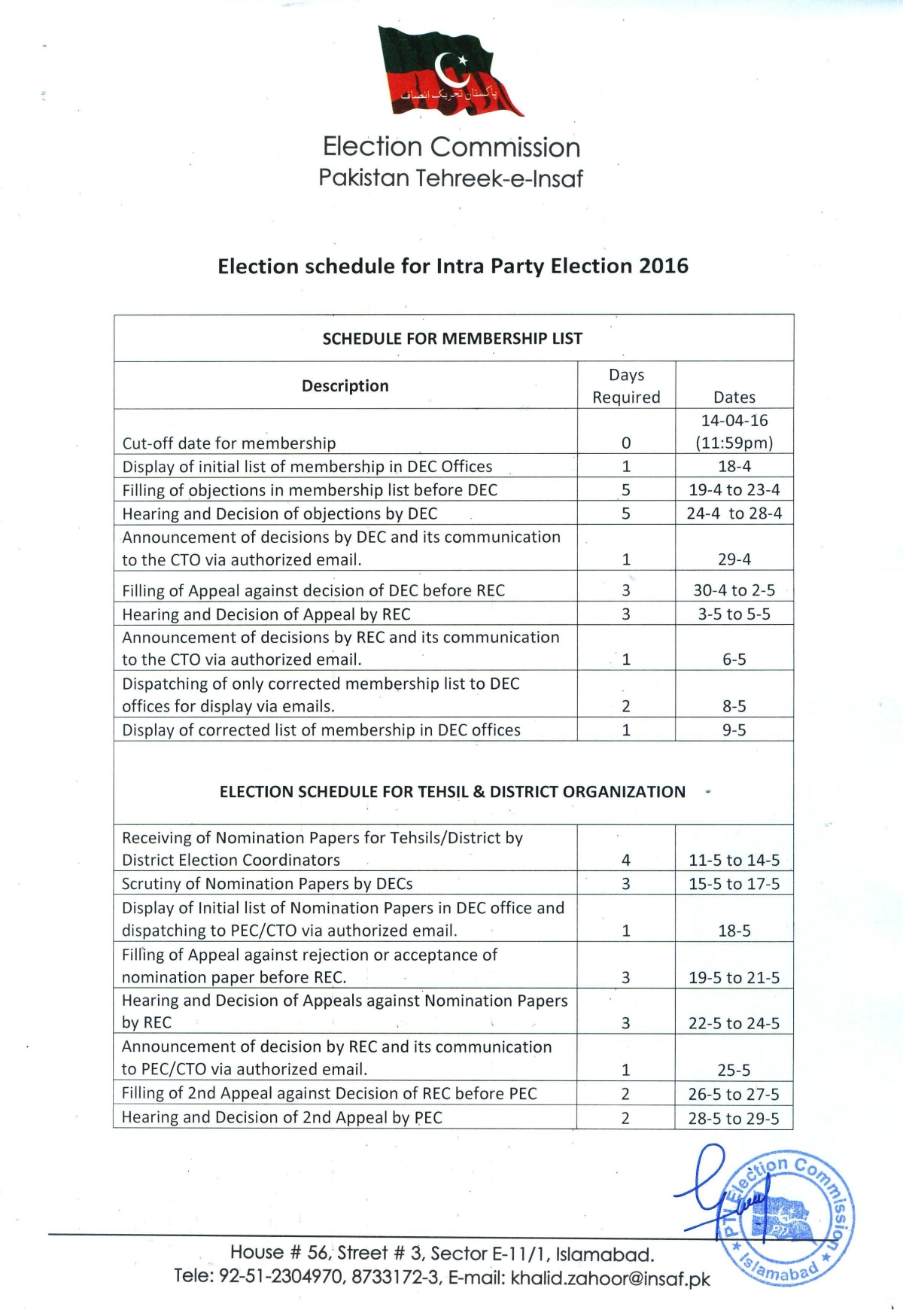 Registration Procedure:
It's really simple to register your vote, for this there is two methods; one is through sms and second is through online system.
Through SMS

: One just need to text

Name

and then after putting a comma write your

ID Card Number

and send it too

90088

.
Through Online one can also complete it.
Procedure How to Cast a Vote:
Last time casting has done through phone calls, this time CE introduce SMS system. Now one voting has done through sending SMS message. A ballot paper is also prepare, all register member just needs to select candidate and send it to given number.
Results:
Those who register their votes before 15 April are able to cast their votes; otherwise they are able to wait till next time. So after polling things decide that who candidates win in this competition. As last results of PTI Intra Party Election for both Punjab and KPK rigged, but this time through proper procedure they expect to get better. Hope so they can do it because they are hope of too many youngsters who are waiting for the selection of right ones. This is time to prove things in positive way which they always promise in past.