Pakistan Navy jobs as Short Service Commissioned Officer 2013 has been all arrived for the desirable candidates. All those people who are in the everlasting wish to make their future successful and brighter in the Pakistan Navy Division they have the precious opportunity because Pakistan Navy has opened their jobs for the Commissioned Officer. There would be no single person that would ever wish to miss the chance to work for their nation and make them feel as proud. Pakistan Navy is providing this sole chance for all those people who want to work for the success and prosperity of their nation.
Pakistan Navy Jobs As Short Service Commissioned Officer 2013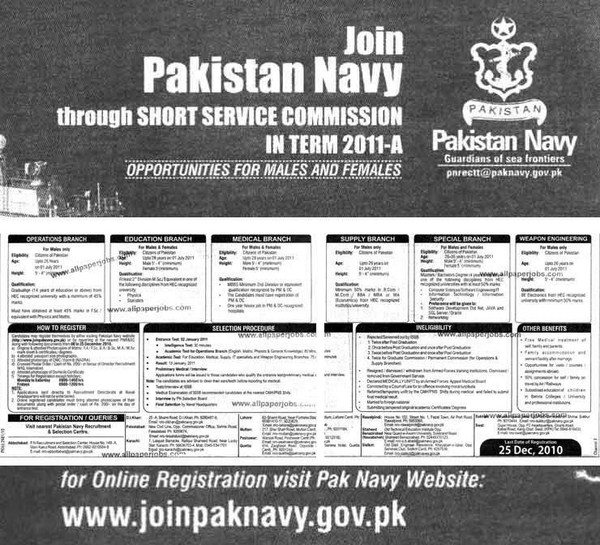 METHOD OF REGISTRATION:
All the candidates that want to apply for the short service commissioned job they can either take the assistance from the internet or they can also take the help from the selection centers as well. The candidates can even take help from the websites as well for applying online for test and interview. All the candidates will be informed about the date and place of the interview for entering into the next procedure.
All the candidates are required to submit their registrations before 25th January 2013.
The procedure of test and interviews will be carried out from 4th February till 21st February, 2013.
ELIGIBILITY CRITERIA FOR PAKISTAN NAVY JOBS:
The candidate should be male and his martial status should be either married or unmarried.
He should be fitted within the height of 5'4 feet and weight should be normal.
He should be the citizen of Pakistan. International and aboard citizens are deprived from this job.
If the candidate has been filled with any bad records in past or he has been rejected for nay post in Pakistan Navy in previous test as well because of the weak profile and indiscipline he will not be alternated for the job.
The candidate has to submit the fitness certificate as well along with the registration forum.
Additionally, the candidate has to submit all his educational document photocopies with attestation along with two photographs as well.
Attested photocopy of domicile should also be submitted by the candidate.
Photocopies of National Identity Card as well.
Following are some of the main categories that are opened for the Pakistan Navy Jobs 2013 and their eligibility details and age limitations:
CATEGORIES FOR REGISTARTION
QUALIFICATION OF CANDIDATE
AGE OF CANDIDATE
Army Education Corps (AEC)
The candidate should have done MA/ MSc in following Disciplines:

Islamic Studies
Computer Science
Pakistan Studies
Urdu

28 years as on 1 May 2013
Corps of Ordnance (ORD)
The candidate should be done BSc / BE in following subjects:

Textile/Leather technology
Plastic/wood technology
Metallurgy Engineering
Chemical Engineering

28 years on 1st May 2013
Psychologist
M.A /M.Sc in subject of Psychology with Minimum 2nd Division
28 years on 1st May 2013
For knowing  any additional details about Pakistan Navy Jobs as short service commissioned officer 2013 and all its registration criteria you can get in touch with the nearest selection centre of Pakistan Navy in the below mentioned cities:
Lahore
Karachi
Peshawar
Rawalpindi
Hyderabad
Multan
 Gilgit
Quetta
So these are important and main requirements for getting admission in Pakistan Navy Jobs 2013. So those candidates who wants to make their future bright should get job in this field.