There would be no such women who would ever refuse to attract herself for the jewellery. There are many well known jewellery brands that have always tried to grab the attention of the women for all happenings. In all such brands we never forget to put the highlight on Xevor. This prominent and well known brand has been working inside the fashion world for the last several years. Their jewellery collections have always been well liked and appreciative by the women because they have all the time highlighted stylish and elegant jewellery collections. They mainly serve out the women with the jewellery collections for formal, casual and bridal events. Xevor jewellery sets are normally witnessed with rings, earrings and necklaces. Just newly, Xevor has got underway with their dazzling and interestingly designed wedding jewellery collection 2013 for women. This whole collection has just forced the women to forget blinking their eyes because it is so extreme catchier and attractive looking.
Xevor Wedding Jewellery Collection 2013 For Girls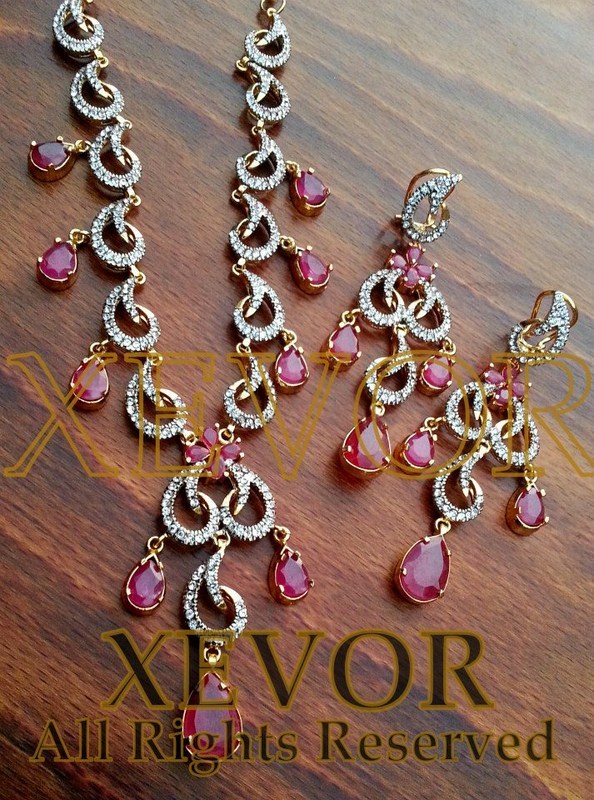 Just as the name itself, the collection has been complete dedicated to the bridal functions and events. The collection has been filled with the necklaces and earrings that are simply designed but with the appearance of elegance and graceful strokes for sure. As regard the decoration of the wedding jewellery collection 2013 has been concerned then they are filled with the beads and stones with little feel of gold as well. Most of the beads and stones are even showing small colorful shades as well that are mostly multi-shaded just like red, white, light green and silver. These small features have surely made the collection much colorful and full of life. For the convenience of the readers we are sharing few pictures of Xevor wedding jewellery collection 2013 for girls.
Apart from it, besides earrings and necklaces the women can even take pleasure from the rings that have also been involved inside the collection. The women have the ideal choice of choosing out any jewellery set for the wedding parties and even for the social gatherings too. All in all, this wedding jewellery collection by Xevor has been mind-blowing alluring and awe-inspiring for the girls and we are sure that it would make them feel like princess. If the women are in the favor of taking hold over this appealing collection then they can grab all the details through the below stated facebook fan page now.
Xevor Facebook Fan Page: www.facebook.com/xevor
In short, Xevor wedding jewellery collection 2013 is very beautiful and marvelous. So all women and girls should buy them before someone else buy this beautiful jewellery.