All the women just get ready because Al Zohaib spring summer collection 2013 for  women has all exploded on fashion planet. Al-Zohaib Textiles is one of the newly emerging textile mills inside the fashion world. This mill has been working for the last few years and hence in just minimum time scale it has surely made its reputed place in the middle of the fashion lovers. This mill has been normally seen designing the clothing collections for women and hence they have every time made the collection much special and ordinary for the women. In the previous time of year, they arrived with their fresh looking Mayimaan Collection 2013 for women that was much loved and liked by the women. Apart from the designing they even give away their first and last interest in using the finest clothing fabric as well that is always appear to be perfect for all the seasons.
Al-Zohaib Mahnoor Spring Summer Lawn Collection 2013 For Women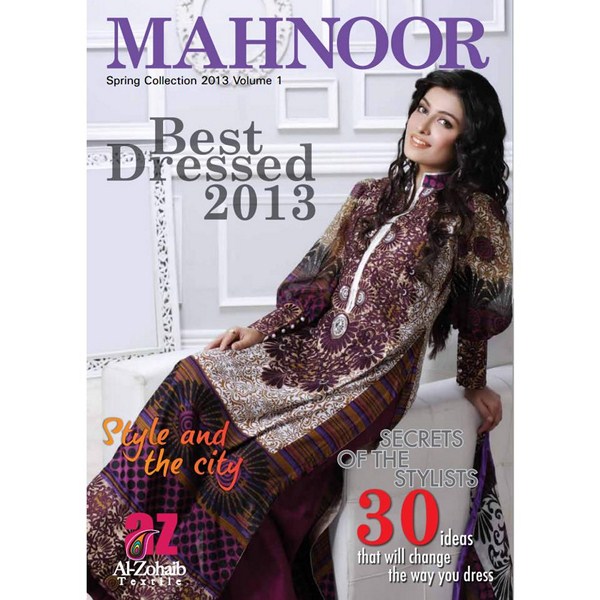 Freshly, Al-Zohaib Textiles has arrived with the big explosive launch on the fashion planet with their magnificent and well designed spring summer lawn collection 2013 for women. In this collection the women will just going to get closer with such outfits that they always wanted in their clothing wardrobe. This whole spring summer lawn collection 2013 has been filled with the shirt, trouser and dupatta. In simple words, the collection revolves around the three piece suits. They are all available in unstitched manner.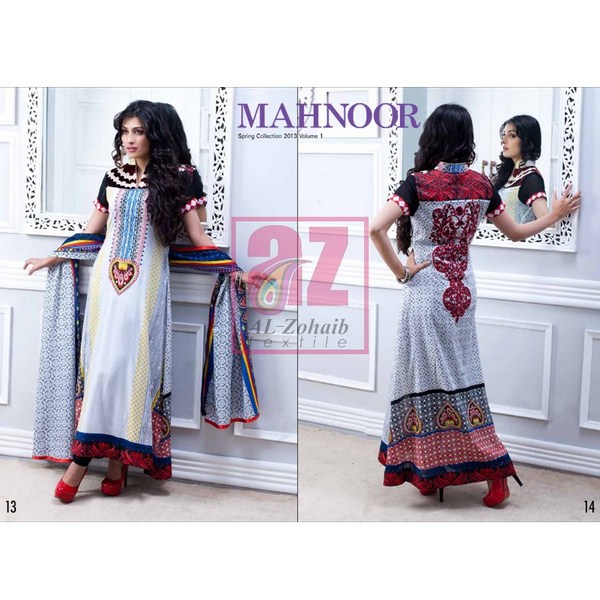 In addition, the color combinations used for the spring summer dresses have been quite impressive that is implicating both the light and dazzling dark shades adding with red, white, green, blue, pink and black. In this post we will be sharing few pictures of Al-Zohaib spring summer lawn collection 2013 for women. In the decoration section, the shirts have been printed with the texture pattern designing along with the embroidery as well. Most of the shirts have been even finished with the cuts as well that are much glittering looking. The women can place all such clothes for the events and even for going outside with family members as well. The rates of all the collection clothes have been kept as affordable and reasonable that starts from Rs. 2000. If the women want to get any details about the collection then they can get in touch with the brand through the below mentioned facebook fan page:
Al-Zohaib Textile Facebook Fan Page
So all the women out there just don't forget to hit upon this charismatic and alluring spring summer lawn collection by Al-Zohaib.