Kamdani is considered to be well known fashion brand in Islamabad. It offers many products for men and women. We would like to mention that Kamdani is the sub brand of Fashion Ka Ghar. This fashion brand has been founded few years back but it gained huge popularity and appreciation among women. As the name shows, the main objective of Kamdani to provide fancy and elegant dresses for women. This fashion brand is owned by talented and well known Sundus Muzaffar. The main product lines of Kamdani are casual wear, formal wear, semi-formal wear, bridal wear for women. Every year, Kamdani showcased its bridal collection for women and girls.
Kamdani Bridal Dresses Collection 2013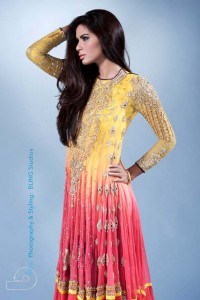 Recently, Kamdani has launched its latest and exclusive bridal dresses collection 2013 for women. This bridal dresses collection 2013 is very elegant and beautiful. This beautiful bridal dresses collection 2013 includes wide variety of bridal dresses for women. All bridal dresses are adorned with heavy embellishments. Moreover, this collection includes bridal dresses and Mehndi dresses. If we talk about colors then Kamdani used dark and attractive colors like pink, maroon and yellow. We are hundred percent sure that these bridal dresses will definitely attract by many women and young girls.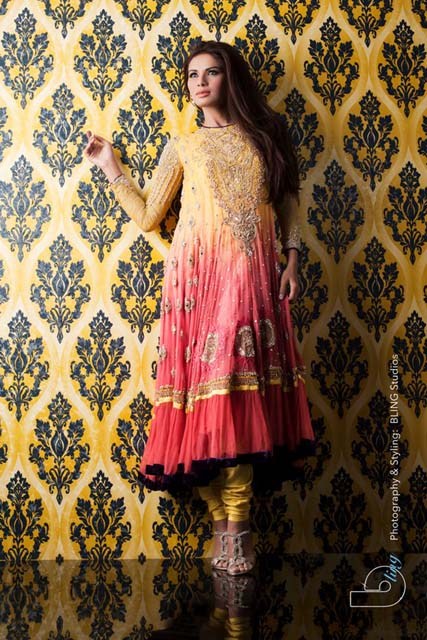 The outlet of Kamdani is located in Islamabad. In this informative post, we are sharing the pictures of Kamdani bridal dresses collection 2013 for women. After seeing the pictures, if you want to know the price range of these dresses then you should visit the face book fan page of Kamdani. Apart from knowing the price range, you will also check out the different collections by Kamdani on this face book fan page. The address of face book fan page is given below:
Facebook Fan Page: http://www.facebook.com/KamdaniAProjectByFashionKaGhar
In the final conclusion, we can say that these bridal dresses by Kamdani are simply beautiful and elegant. We are completely sure that women and young girls will surely like this bridal collection by Kamdani. So if any woman wants to buy beautiful dresses for her upcoming wedding functions then she should visit the outlet of Kamdani. In short, we can say that all bridal dresses are extremely beautiful and stunning. So don't waste your time and if you want to wear beautiful dresses on your wedding functions then you should buy Kamdani dresses. By wearing these dresses, you will surely look gorgeous and extremely beautiful.