In this article we are mentioning the complete Djuice smart tunes codes list for the readers. There are many people who just love to set the smart tunes on their mobiles. So all for those people Djuice has all arrived with this offer that would allow the Djuice users to take pleasure from the smart tunes and even entertain other as well.
METHOD TO ACTIVATE THE OFFER:
For getting activated with this service the user is required to send message at 230. The activation charges for the service will be Rs. 6.5 plus tax for every single song.
Djuice Smart Tunes Codes List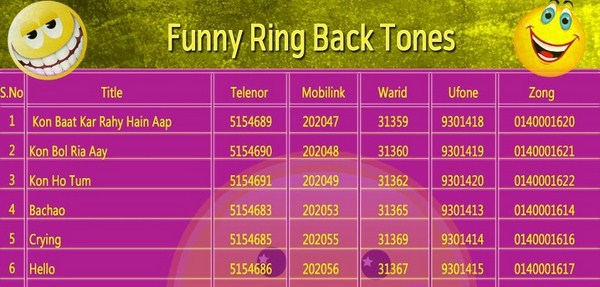 LIST OF SMART TUNE SONGS:
Following is the list of all the songs that have been comprise within the smart tune list by Djuice. The songs have been even offered with the codes as well.
Dil To Bachcha Hai Remix
ST 516327
Dil To Bachcha Hai
ST 5075792
Mere Ansowon Per Na Itna Hasso
ST 5075793
Nigahon Se Khechi Hai
ST 5075794
Rukh Se Zulf Jab Sarke
ST 5075795
Yar Jab Se Yar Ho Gaya
ST 5075796
Aa Desti Gulliya
ST 5075797
Dil Lagana Na
ST 5075798
Ishq Anokhari
ST 5075799
Pardha Tu Hatao Jalwa Dekhao
ST 5075800
Sehr Qareeb Hai
ST 5075801
Tere Darwaze Per Chilman Nahi
ST 5075802
Tu Elmo Bas Karde
ST 5018195
Mera Paigham Pakistan
ST 5081476
Data Ke Ghulamo Ko
ST 5081477
Data Uchi Shaan Walya
ST 5081478
De Jaam
ST 5081479
Dholna
ST 5081480
Jinhan Da Data Peer
ST 5081481
Mahi Janda Hoya Le Gaya
ST 5081482
Main Kewain
ST 5081483
Mere Dil Wich Sohna Yaar Wase
ST 5081484
Nach Haidry Malanga
ST 5081485
Noor E Khuda
ST 5081486
Puwary Dahde
ST 5081487
Raba We Mera Yaar Mor De
ST 5081488
Ratoon Ko Chain Se Na Soya
ST 5081489
Sartajan Ke Taj Moin O Din
ST 5081491
Sohna Baba
ST 5081492
Tujh Sa Kahain Kis Ko
ST 5081493
Yar Da Makaan
ST 5078026
Aaja Mere Yaar Aa
ST 5078027
Aankhen Gulabi
ST 5078028
Bheega Sa Sawan
ST 5078029
Chaudhwin Ka Chand
ST 5078030
Dil Gaya Dil Gaya
ST 507803
Mere Yaar Meno Apni Karle
ST 5078032
Rang Rangeeli Rut Sawan
ST 5078033
Sun Yara
ST 5078034
Yaar Kabhi To Sun Le
ST 5078035
Allah Hoo Allah Hoo
ST 5078036
Kinna Sohna Tenu Rab Ne Banaya
ST 5078037
Mast Nazron Se
ST 5078038
Nat Khair Mangaan
ST 5078039
Saano Rog Laan Waliyan
ST 5078040
Sajna Tere Bina
ST 5078041
Tumhein Dillagi Bhool Jani
ST 5078042
Yaadan Vichre Sajan Diyan
ST 5078043
Bheegi Bheegi Raat
ST 5078044
Dil Tutne Te Kambi Khudai
ST 5078045
Kal Raat Tumhare
ST 5078046
Khat Ye Tumhara
ST 5078047
Kisi Roz Milo Hamain Sham
ST 5078048
On the whole of it we are sure that all those people who have never think about taking fun from the Djuice smart tunes they will activate it now and we are sure that you can't stop your feet from dancing on the song lyrics. HAVE FUN…………..