In this article we will be putting a light on the specifications of Nokia Lumia 505 with Windows 7.8. Nokia has been known as one of the top successful and distinguished mobile brand in Pakistan. This brand has been all the time engaged in serving their customers and Nokia fans with stylish looking and stunning mobiles that always took away the hearts of the people. There has been no such country that has not been offering the mobiles of Nokia. Well, one more time Nokia has yet again arrived in the technology planet with the blasting rocket of Nokia Lumia 505. This mobile has been covered with all the features and exciting specifications that has been the bad need of any mobile. They not just give away their whole attention at the styling but even serve the customers with the affordable and reasonable rates and this has been the idealistic example of reasonable price height. Now without wasting any more time let's have a look at some of the main features of Nokia Lumia 505 with Windows 7.8.
Specifications Of Nokia Lumia 505 With Windows 7.8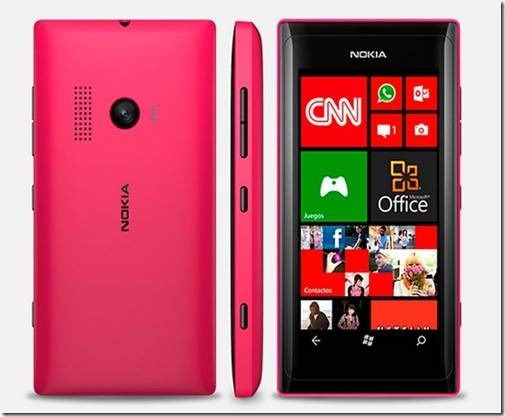 SPECIFICATIONS OF NOKIA LUMIA 505:
The size of Nokia Lumia 505 screen has been measured out to be 3.7 inches that is offering 480/800 pixels. In addition, it even offers the touch screen pad as well.
The weight of the mobile has been calculated as 113 grams.
The whole screen resolution of the mobile has been covered with 56 color strokes.
The internal memory storage of Nokia Lumia 505 is 4GB while its RAM can cover the memory capacity till 256 MB.
The camera facility has been equipped with the flash services that has been offering 3264/2448 pixels.
In view of the connections, it has been overflowing with the accessibility of Bluetooth, WLAN, GPRS, EDGE and USB.
Nokia Lumia 505 has been served with three different shades for its fans adding with red, black and magenta.
The battery limit of Nokia Lumia 505 is maximum 670 hours of time scale.
Well on the whole of the discussion this was all for the features of Nokia Lumia 505 with Windows 7.8. Nevertheless, its market rates have been not been yet revealed by the company but we are sure that it will be less just like all other Nokia mobiles.