Moon Textile is a brand that emerged 30 years ago and has achieved appreciation not only nationwide but internationally as well. Based in Faisalabad, it has been producing exceptional quality fabric and has expertise in creating one of the best quality lawn all over the country. The specialty of this brand is Barkha lawn. Each design of this collection depicts the excruciating passion for designing that resides within the whole team of Moon Textile.
Their new collection featuring 8 new lines: Digital, Trends, Batik Lawn, Batik Chiffon, Barkha Lawn, Barkha Chiffon and the completely new and exclusive Swiss products that they are introducing this year Swiss Voile & Swiss Voile Crinkle Chiffon have certainly outdone all previous collections.
Moon Textile Summer Collection 2013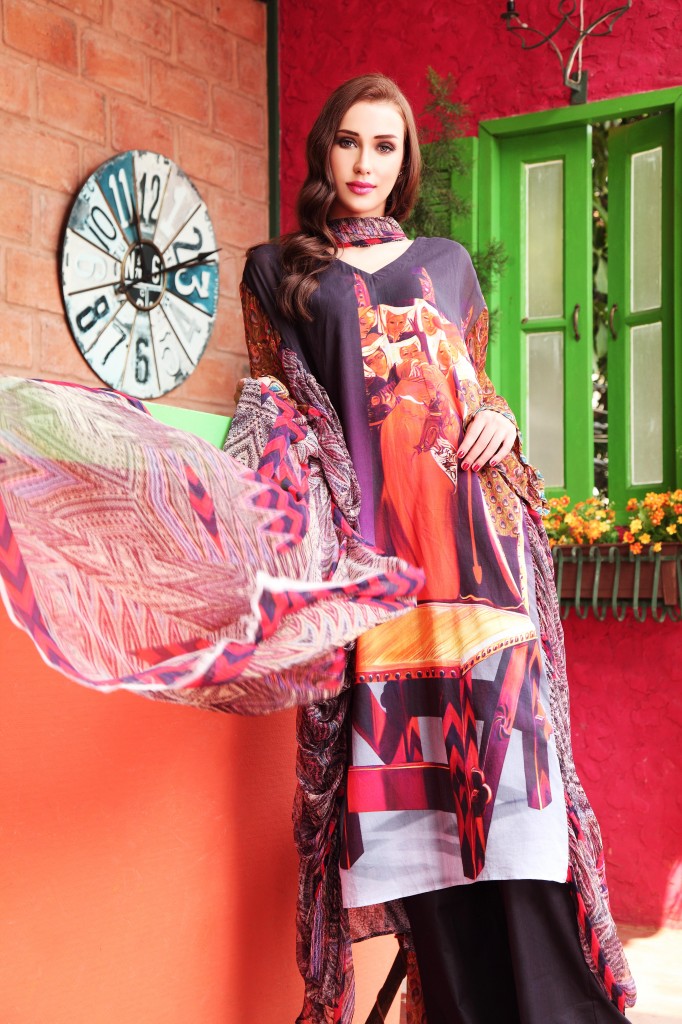 Trends has 11 new designs, Batik Chiffon 48, Batik Lawn 75, Barkha Lawn 32 and more coming in Barkha Chiffon as well. Digital line is the new addition to the family of these beautiful collections. Digital prints produced under Moon Textile consist of 16 exquisite designs. The designers have delved into the unfathomable depths of art to bring out the perfection in the fabric as well as the designs. Each design differs from one another yet it does not lose its aura of elegance and sophistication.
These collections cater individuals belonging to any age, be it teenagers who seek for edgier designs and vibrant colors, married women who look for class and sophistication as well as grandmothers who seek for elegance. Moon Textile as always has managed to amalgamate beautiful colors with intricate designs to create awe inspiring cloth. Barkha and Batik collection has infused rich traditional designs with modern elements whereas digital prints are impeccable and an epitome of art.
They have kept women of today under the spot light and created designs according to their needs that are from a variety of everyday wear to dark color tones or for that special evening within a budget. Make sure to check out their 2013 collection as their company line says 'We Bring Art to Life' and that is definitely reflected in their collection.
we hope that you will like all the new collection of Moon Textile for this year 2013.