Here we try to describe few Important Tips that enhance your English language. These tips are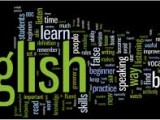 really useful to know about the basic concept of English language. According to our opinion English language is dividing in two types. Because spoken English is different from the English that is grammatically correct. It's not necessary that a good spokes of English is also correct in vocabulary or in grammatical. These both things had lot of difference between each other. For its better understanding I divide this article in various points. According to first point it will necessary that you have strong grip on the basic of English. For this tenses are most important, without them it not possible to understand basic concept of English.
After understanding of tenses its practice is too much important, because practice makes a man perfect. You just write an article and then it's compulsory that you also check it from an expert. After checking you must search that why you make these mistakes. This practice makes an important role to improve your English. Through this you are more efficient in grammatical and in vocabulary portion.
Moving towards another important point to improve English is that you daily read newspaper and label important words. After labeling you must search meaning of these words and correct them, this step also improve your English. Now moving towards spoken English then for better spoken the most important step is that you improve your listening power. The more listening of English the more efficiency in your spoken.
To make a good English spokesperson it's also compulsory that you always try to speak it in better way. You just try to speak it and after a period of time it will automatically improve. In spoken it will also necessary that you also focus on your ascent in which you speak. If you adopt a proper ascent then it also plays an important role in enhancement of your English. I hope that these points are enough for basic of learning English. So must follow these tips and improve your English.