Do you want to know about Sana & Samia Spring Summer Lawn Collection 2013 by Lala Textiles? Whenever we talk about some of the most successful and well known textile mills in Pakistan then we never forget to highlight the name of Lala Textiles. This mill has been working inside the fashion industry for quite long time scale. Although, this mill has never arrived with its own clothing collections but it has always remained in the front row for showcasing the clothing collections of other well renowned clothing brands as well. This time Lala Textiles has decided to hit down the fashion market with the collection of Sana & Samia. These two designers has been one of the famous and distinguished ones for the last several years. There has been no such seasonal occasion that has been left incomplete without the appearance of Sana & Samia clothing collections. Their method of designing the clothes and infusing cuts and ethnic working in them has always been appreciated by the fashion lovers.
Sana & Samia Spring Summer Lawn Collection 2013 by Lala Textiles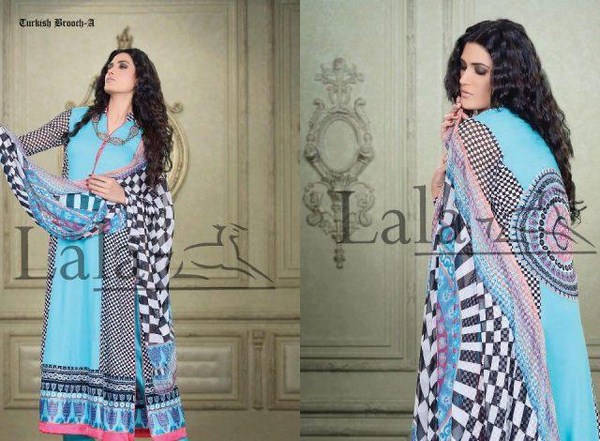 Recently, Sana & Samia spring summer lawn collection 2013 by Lala textiles has been all arrived with the big bang. This whole collection has been extreme fashionable and elegant looking for the women. All the dresses have been designed just differently from one another that are even making the collection more and more marvelous. In this spring summer lawn collection 2013 the women will love to capture long shirts that have been placed with the tights, trousers and with churidar pajamas as well.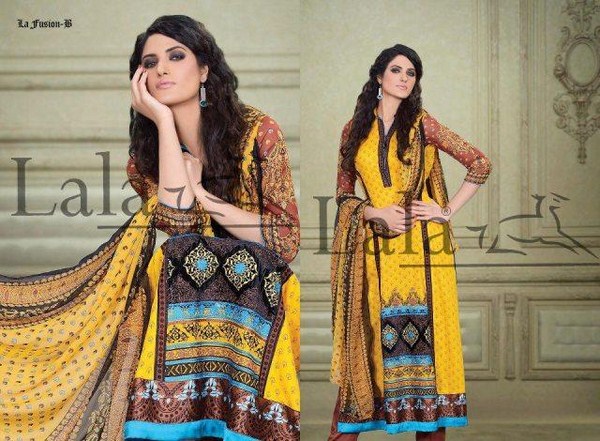 All the spring summer shirts have been beautifully decorated with the embroidery strokes that are evident over the front side and even at the neckline areas too. The color combinations have also been used in superb manner over the dresses that are mostly holding brighter colors adding with red, white, green, black, pink and yellow. In this article we are sharing some of the thrilling pictures of Sana & Samia spring summer lawn collection 2013 by Lala Textiles. Moreover, the women can even make the perfect choice of all such suits for the get together functions and even for the parties too. The cuts and hues have also been installed much elegantly and artistically that is even finishing the collection much stylish and awesome.
In simple words, this spring summer lawn collection by Lala Textiles has been a lot charming looking and much well designed for the women for sure. All the women must grab this collection now before the stock gets over and out.