Ufone is one of the biggest telecom companies which is working in Pakistan foe last 10 to 15 years. There are a large number of Ufone users that are converted from telenor network. This is because Ufone offer low rates and has best network coverage. So for the requirement of new generation like young boys and girls. Ufone is going to introduce free additional Rs.600 with additional free balance offer. Ufone has always believed in giving extra value to our customers with a wide array of offers and packages. Ufone latest offer is additional balance when you buy a new SIM or port it into Ufone network. So according to the requirement this offer will be activated through some procedure and the procedure of this amazing offer is give below: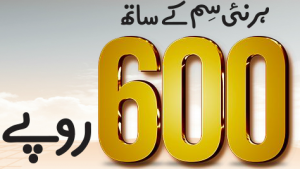 Terms and conditions:
Following are some term and condition of relating to this good offer
1)    This offer is valid from now to up to 15th of April 2014.
2)    Customers will not get a charge of additional 600 rupees. They will get 100 rupees in a month and this will continuous up to 6 months
3)    Customers will get original amount along with additional 100 rupees.
4)    Additional balance will be valid for 72 hours.
5)    This additional balance will not be allowed to share it through U share
6)    This offer is just who buy a new Ufone SIM
7)    To check your remaining balance just dial *124#
8)    19.5 % tax will be deducted
9)    Term and conditions are applied
10)  Additional balance is not valid for IVR, u share, offers and buckets.
11)  Additional balance is valid for call through U to U network only
Recharge a balance of just Rs.100 or more on your new Ufone SIM.
By doing this you will automatically take extra Rs.100 balance free for one month and this will continues for six month. You will get additional balance of Rs.100 every month up to six months.Can you believe on it that no one will give such a good offer accept Ufone because Ufone is your own network.