Topic here one discuss is Amazing Pakistani Mehndi Designs for Eid. Mehndi is a medium-sized herbal plant which use for coloring different body parts and hair. Mehndi is also called Heena this name is consist of the word `hina`, the Arabic name of the drug. Heene is a plant and found in warm dry regions such as Northern Africa, Northwest India, and the Middle East. Heena is a natural herbal product which has no side effect and everybody apply mehndi. This is a place here you can find out amazing Pakistani mehndi design for EID .There is a miss conception that mehndi is produce reaction in some persons but this is not true. The truth is natural heena is not dangerous but chemical additives used by shady "artists" for extra color called black heena.
Amazing Pakistani Mehndi Designs for Eid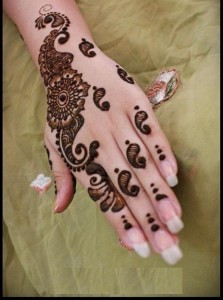 Women are crazy to apply mehndi on wedding ceremonies and Eid festival and they consider without heena their functions are incomplete. Now there are many pattern of mehndi design are available on different places like, TV,inter net and also mehndi design books. Mostly make out lines of mehndi design with black mehnd and then use other shades and apply in different patterns.
Detail of Amazing Pakistani Mehndi Designs for Eid are given there..
1. Round shape design:
This design is so simple and easy to apply and you can make this design herself.
2. Peakcock shape design:
Peacock shape design has donned both Indian as well as Arabic mehndi .This design have both simple as well as bigger shape and this your choice who is best for you.
3. Floral shape design:
This is another amazing floral design which is applied on the one side of the palm. This design is perfect for beautiful Eid occasion.
4. Bangal shape design:
There is a huge range of mehndi design and among them some are simple and some are difficult. In bangle shape mehndi design is making bangle or a bracelet at your wrist. You can also use glitter color to make their mehndi attractive.