Now womens in Pakistan are going modern with passage of every year. One can say that now times has flown away when local girl never knows about the latest hairstyle trends. Below are some new ideas of hairstyle, which must enhance entire look in 2017. Let's begin from Sleek Bob: This is one of the stunning style for giving a reserved look. This hairdo works well with the heavy side bang. This cut suits on triangular, oval and on round face shapes. Although this is little bit different but for short length this is most appropriate one. Second best option is Layered Haircut: For this stylish haircut, medium bob are coupled with titled layers and sleek front bangs. This layering enlightens the cheekbones while the uneven spikes highlight the eyes. This also helps to sooth the rough edges. For square and oval face shapes this is perfect one.
More Ideas:
Super Short Flicking Bob:
This gives a very beautiful look to Pakistani women and this requires a very little effort. But this haircut requires a clear parting for wavy or straight strands with a classic bob. Stylish cute flicks are needed for this look. This is very helpful in enhancing the facial features.
Short Pixie Haircut:
This is one of the most comfortable and the practical one for young girls. Due to its feminine nature it does not require any styling. Make sure trim your strands neatly and quite often.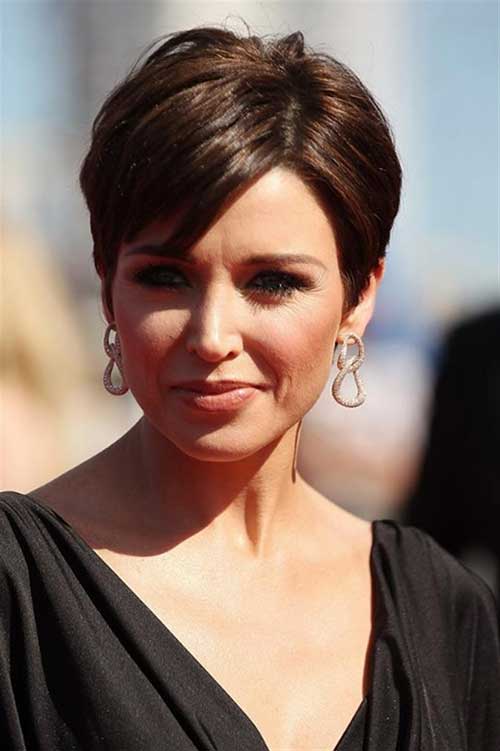 Feathered Hairstyle:
This classy style gives a very mature look to women and looks graceful with a spice hint. The highlights must be kept flirty with the loose curls. This is perfect for short length hairs and with the rounded face.
All of these styles are now in here, although few female thinks that they look over. But it's your own choice that in which way you look more beautiful. In past ladies focus on their hair only for formal occasion, but now all these trends has followed casually to. Never feel any hesitation, but take care of some decent look.