Here is the complete description about How To recharge Telenor Jazz Ufone Zong Warid card through easy steps given in below writing so far. Every Mobile signal providing Company is very active in providing all the services by keeping the consideration about Customer's easiness so far. Mobile Phone customers are always like easiness to get their services so far. How to get the recharge by simply dialing the code from your Mobile Phone including PIN Number. Many of us, when we run out of balance, we fail to load our cards on our sims. We still do not know about the load procedures of these mobile networks. Many people, they prefer to use easyload service because they are not aware about the methods. Here, you will get chance to know the procedures of each and every mobile network working in Pakistan. These are quite easy and convenient to.
To easiest way to get Cards from OneStop as well as many retailers over there in Market. After getting the Cards you have to scratch cards and after getting the PIN# you have to send it from your Mobile Number to help line by just dialing through Unique code that is different by connection to connection so far. Another easy option available for Customers so that they can get their Mobile Phone Recharged but that is not an good because of Human element is involve over there and that creates many problems for end Consumer. Warid,Jazz and other Connection companies lost their trust by this Service.
How To recharge Telenor Jazz Ufone Zong Warid Card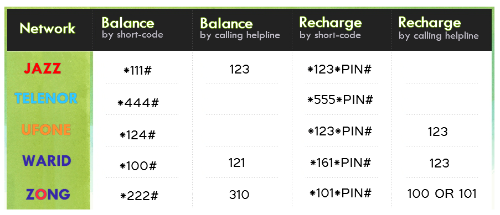 Start from this one of the oldest operating network. Enter *123* on your phone come after by the Fourteen digit number which is present on your Jazz Prepaid scratch card and then press # button. After this press the Send button. This is all, your balance will be transferred on your phone. You will also get the conformation message that has been loaded on your phone and this much amount is there in your account.
You have to dial *555* along with code which is present on your scratch card and finally press #. You can also call on 555, just follow the instructions and load your card.
To load their card, the customers have to dial *123* along with the specific PIN number and pressing # button. When you will load this card, then after few seconds a message will come on your phone that your card has been successfully loaded.
The easiest way is to dial *101*Unique number # and pressing the Send button.
You can re-charge your Jazz credit by either purchasing a Jazz Card, through Jazz Load or by International Recharge. If you any network operating on your phone, the just follow this simple way. Moreover table is also good to provide you best assistance.